"The artist, a person with the capacity to transform their instincts into reality through their artwork, as well as that, to turn those impulses into something aesthetic, they are like neurotics, flee a reality that is hardly satisfactory to them and take refuge in a fantasy world, and are able to find their way back." As mentioned by Sigmund Freud, explaining art has its own psychological baggage and makes one truly genius through their work of art.
In essence, art is the way of expressing emotions in a non-generic way. However, a technique is no good until admirers can actually see and understand it. An art exhibition helps bring that hidden essence and emotion before the people that admire and understand it. Arts have the uncanny ability to overcome cultural and ethnic differences, art is that universal language that brings people together.
With the aim of affirming the resilience of art during the difficult period and in preparing for the future, we launched this online platform, which, among other things, consisted a series of global virtual support for the cultural world throughout the crisis. It's our 2nd international online exhibition with ample of success. We gladly featured all the participants, who joined us this time, and also paying tribute to the solidarity shown by artists and institutions at time across the globe. We would like to bring it to your notice that other than this exhibition we organised art camps, residencies and workshops. And hope, will continue to shake new hands for future period of time too.
Most importantly, we would like to thank our jury, Dr. Bibekananda Mukharjee, Sri Sourav Jana and Haren Thakur for helping us to sort and come with the best to showcase in our shows.
Please do support us and join us on our Instagram and Facebook pages to be aware for our upcoming initiatives. We heartily Congratulate all artists for being part of this exhibition. For the artists who were not able to be part of our family for this time, we assure, we will be in touch with them for future initiatives. Moreover, hoping from all to enrich us with your valuable Compliments, comment and suggestions, with your thoughts at comments box.——Motile Art
Click on Artist name or Scroll down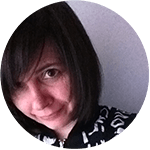 Agata Dworzak-Subocz

Poland
This work is from a series of graphics inspired by the flashback of graphic images collected in artist's own memory. She believes everyday life generates hundreds of views of reality that we record or not, the ones we realize are there and the ones that are gone, only recalled as memories. She try to put it all in a real and unreal space at the same time. Between what surrounds us and what we see, the picture is born between the eye and the mind. Reality and fiction become the material from which she build virtual spaces.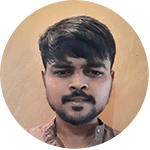 Akash is a sculptor based in Baroda, India. He likes to see his works from simole perspective of life . He says, ' Art is the artist's personalized perception of the world and worldly things. '

Amanda Bremer

United States
Her works seeks to bring more light and love into this world. She hope that her paintings evoke feelings of peace, happiness, and healing. Through her art, She would like to reconnect viewers with the beauty of nature and wildlife. She would also like to raise money for various charities, specifically for children with special needs, human trafficking victims, and wildlife. "Art is a way of transporting us to a new world of imagination and possibility", she says. She loves painting animals and people in particular. Her art is inspired by fairy tales, my dreams, wildlife, and nature.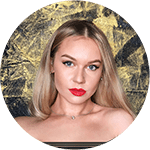 Andreea

 

Holotă

 is an artist who works and lives in Cluj-Napoca, Romania. She graduated from the University of Art and Design in Cluj-Napoca in 2018, bachelor's degree in the department of Textile Arts-Textile Design, followed by the master's program in visual arts in 2020. She is currently a PhD student at the University of Art and Design in Cluj-Napoca.
The artwork  ,,The cat and the tree of life''  is inspired by the work of the artist Gustav Klimt. Plastic language elements such as dot, line, shape and color were used in this artwork. Also combining geometric shapes with organic shapes to create a decorative composition.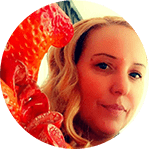 Andri

 

Iona

 creates her work inspired by nature's uniqueness and diverges wealth and colors.  Her ceramic sculptures are created with stoneware clay. The mystery and beauty of nature are the inspirational force behind her work. Clay becomes a connection between her creative process and the diverse power of nature. Ceramic sculpture often becomes a struggle, not only at the level of the material used but also at the level of an internal need to create an ideal relationship between shape, form, and equilibrium.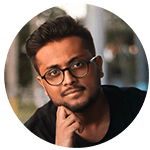 Stepping inside the dreams of Dante's "Divine Comedy", the work He has conceptualized is grounded in the narration of Dante's journey through different cantos with his ideas on philosophy and politics. By revisiting the world of Dante, he like to position himself as an explorer as all his works are grounded in personal experiences, ideas and memories. He tries to juxtapose different techniques and references from Indian folk art, miniatures, western modernism and the present contemporary art world, which helps me develop a new dialogue to conceptualize the compositions.He says, "I enjoy pushing myself on the wheel and trying new things."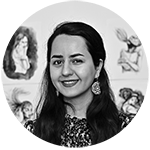 Arezou Ramezami

United Kingdom
Arezou Ramezani is a London-based Iranian visual artist and podcaster (@arezouart) who loves to use different mediums. She believes sharing emotions is essential and humans go through common experiences that's why she investigates the human's rawest feelings and tries to connect to the deeper layers through her art where she conveys an emotion and evokes a feeling to the audience, hoping they resonate with them. This experimental glitch animation is about the constant war within us and the struggle to stay aware and conscious in a world full of noises and distractions.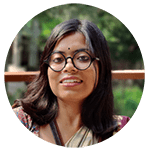 Her thought provoking subjects are mainly derived from surroundings, social chaos and personal crisis. This particular work is based on different postures of artist and her dog . The essence of this work is very personal, in her words. She tried to articulate the bonding between two of them with juxtaposition of different sleeping positions.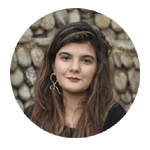 Javaid always feel Art as Self expression . Her paintings tells grief and pain about unforgettable time when she was fighting a battle against breast disease. Then she has started taking interest in structure , intersection of architecture and geometric forms resembling to the breast. She says , "I experimented with various compositions, colors and shapes to develop my visuals. I use those colors which interests me, effects me and triggers me, and I take them as a language to express myself and my deep feelings. The main idea of my work is body and structures filled with colors that are resembling to body."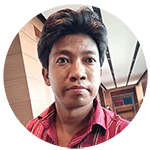 Bipul Is an Indian Artist who has been practicing painting for the last 17-18 years. This artwork is the 1st of a  new series called " Art Work to Art Work "  . He believes that,  There is a lot of scope for any art work that cannot be stopped in one place.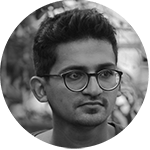 Mostly he works with clay . His sculptures are small in size, as he believe that, small things can reflect the ideas which are larger than life. He says, "When we look back to our first formed images in our mind, with the loss of memory and other factors, we keep something unique about the idea like a flash. As I sculpt, I try to capture those moments of untouched purity without any peripheral forces to shape. My attempt to meet an idea at its very origin becomes my style. The Medium I used at first is clay, then it transforms into terracotta, fiber, and bronze. And also in painting, I try to find the inner lines of the forms."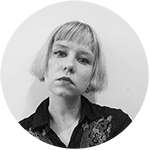 The impulse to create the painting Motherhood were family events, and more specifically the death of relatives people. It was these traumatic experiences related to the departure of family members that caused them feeling of longing, which in turn prompted me to over-recall shared memories by looking at photos from the family album. The image reveals a certain two-dimensionality the cycle of human life. Seemingly idyllic moments spent in the company of the closest people are hidden under the covers they become a shadow of a tragedy, such as illness, death or separation, thus creating a kind of illusion lost happiness. In turn, the characters filling the subsequent canvases are only a trace of someone else existence.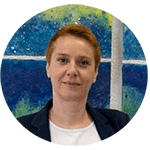 "Creating art is my life. It is the inner need that drives me. That is the need for expressing  emotions and experiences. It is research, it is a game, it is a challenge and need for frequent change. I am a sculptor but I also paint, draw and occasionally print..I like applied art and some of my work is from that area.  Several  years ago I started using wood as a material in my sculptural work. I carve in different types of wood. I enjoy knowing its characteristics: hardness, structure, color, etc."
Most of her work is abstract, and mostly find inspiration in nature. Sometimes her inspiration can be music or literature.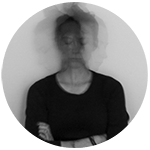 born in 1994 in Biłgoraj (Poland). Graduate of General Education School of Fine Arts in Zamość (Poland). She graduated a fifth-year student of Graphic Arts at the Institute of Fine Arts at University of Rzeszów in 2020. She completed her diploma in the Flat Printing and Lithography Studio and in the Multimedia Studio. In her works, often combines various fields of art and their techniques.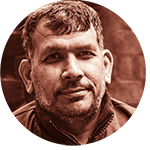 Dr. Mohinder Kumar Mastana

India
Dr Mohinder is from Jalandhar Punjab India, working in the field of Visual arts (Sculpture) from last 28 years, his Works are full of Expression there is a linear regression,with tribal features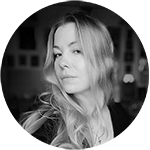 She is a PhD student at the Interdisciplinary Doctoral  Studies "Academia Copernicana" at the Nicolaus Copernicus University in Torun in Poland. Also work as a drawing teacher at the same university. This image comes from the latest series of her paintings about the departure and distance of a loved one. The main theme of my compositions, consistently black and white, is the naked human body, with the help of which he tell about desire, unfulfilled and eternal unfulfilled longing for closeness.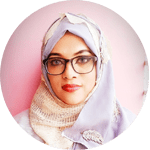 Her influences are  everything she saw, feel and experience.But as an artist she work hard to develop my projects that speaks both to me and others about the nature. She says,  "People always ask for my artist statement, so I needed to do  but I have never liked to explain a certain piece of work, hopefully it can speak for itself and whatever it says to the viewer. it's the right message because there isn't any wrong or right .Each person takes something little different from the same picture and I'm happy with that."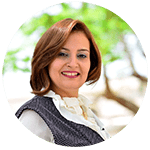 Feby Saiid Fahmy Andraws

Egypt
Her artworks  expresses a philosophical vision stemming from ancient Egyptian art, which is considered one of the oldest civilizations representing our Egyptian identity, the Egyptian civilization that witnesses culture and talks about our history and unique aesthetics. In her works she dealt with it in a contemporary style inspired by the elements of ancient Egyptian art heritage and the hieroglyphic alphabet  in modern artistic designs. The painting of the sacred bull is inspired by ancient Egyptian art which in a new space with the hieroglyphs of Egyptian art in a contemporary style as if it was celebrating his true status.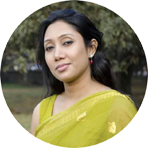 Habiba Akther Papia

Bangladesh
She is an artist from Bangladesh, specializing on bronze and brass sculptures. Her works are based upon the injustices commoners face in the modern society . Her focous is also on the negative issues that is present in the system. She represent her works using bugs of various types such as ants , termites and caterpillars in sculptural forms.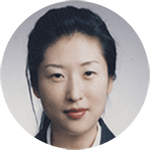 The characteristics shown on works as the expression of emotion are extremely private and show the autobiographic state by approaching the inner language in metaphorical situation and it is how she communicate with the world through the works by unfolding and showing the residual products of the emotions obtained from her private life. In her words "I express myself that is transformed into drawn people, animals or other images and express thoughts that are inherent in the consciousness of me. They are usual emotions such as fears, depression, happiness, sadness and others that are experienced by living the present society, but which are images of the inner world that approach as big problems."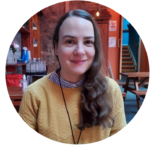 The artwork she has submitted, "The Giver", explores her ideas about (the limits of) deconstructing the physical human form, and (physical) reality in general; what is a human being when its basic physical features are obscured, taken out until there's nothing left to be taken out anymore? How much can we take out of a human being's physical form and still call it a human being? How much can we take out of any form, animate or inanimate, and still be able to represent it visually? , she tries to arose those questions through her artworks.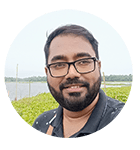 Joydeep Bhattachrjee

India
This seems to be a very relevant question for a larger section of people nowadays in our society. We are talking about the LGBTQ people of our society. These people of our society today suffer from identity crisis and want a society here they would be normally seen in the eyes of common human being, humanity first and sexuality after that. Humanity is the main element which should be seen in everyone and respected accordingly. This has been a huge problem today in India where the people of these communities are humiliated everywhere on their sexuality and way of living which cause in the true depression of these people. We should understand, they are too common as us and not criminals or mental. They have feelings on the same gender of themselves which are common to be as this lies in the mentality and gene.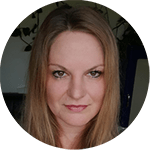 The approach in her work takes is a socio politicised practice and she is working with different media like photography, sculpture, installation and mixed media. "My glance falls on everyday commodities and its absurdities – just what we call "normality". There are topics consistently popping up in my work  like self-optimization, useability of human resources, high glossy retouched gender stereotypes, neurosis of profiling, bodypolitics and our life experiences during Corona. An inner discomfort, my antipathy is what drives my multidisciplinary work."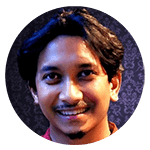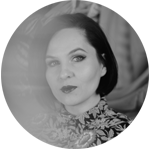 Katarzyna Gielecka-Grzemska
Poland
She pays attention to the source of anxiety and present this problem with means of artistic expression She is most familiar with graphic art. It seems that art in general, through the sensitivity of creators, is the most appropriate way to describe such complex emotional states. Using graphical media, she was able to show the emotions swirling in people, their influence on our body, which is a reflection of inner dilemmas, as well as a certain record of experiences. The main and the most vivid point of my prints became the human being. She says, "For years I have been creating graphics using screen printing techniques. It gives me the opportunity to combine traditional graphic traces with processed digital images. All the graphics were hand-pulled."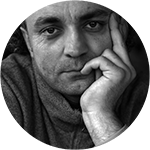 Krzysztof Tarnowski
Poland
He is a graduate of the Faculty of Arts at the University of Opole. Thesis in the field of multimedia under the supervision of prof. Magdalena Hlawacz. Painting, photography, ceramics and various types of multimedia art. His paintings are characterized by strong emotions, minimalist colors, simple but meaningful use of form.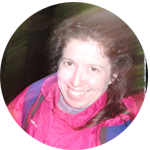 Lara Coutihno is an eco-activist born in Mozambique. She currently works as an artist and art teacher in Brussels, Belgium. Her works are watercolors paintings on cotton paper where elements rejected by Nature are sewn together. They intend to appeal to the importance of Nature for our physical, mental, and spiritual well-being and its necessary preservation. This green space where the natural elements are collected can be forests, city parks, or even the small grove in front of our front door.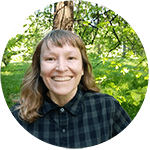 Laura Pietiläinen & Sara Pathirane

Finland
Seahorses belongs to new wave contemporary dance video series "Under the Stars", a collaboration between choreographer and dancer Laura – The Light of All and visual artist Sara Pathirane. Videos of this series are shooted in Finnish nature with its spirits in four different seasons.
"Seahorses depicts a dance of seahorses being born in ancient times in mythological land. Later far-away in the future the seahorses wake up from their fossil bodies and through metamorphosis they achieve Rambo-like powers on a sandy beach."
video credits are in youtube description.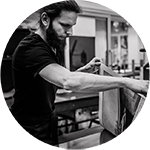 Starting point for the creation of this particular work was an observation of the architecture of city where he live – Bytom. He has decided to extract some architectural elements of the buildings, which are known to us and recognizable and then combined them creating unreal, uncanny architectural structure. Another important element of this work is the monumental character of the architectural structure presented by me. What is more, the feeling of immensity, infinity and unspecified scale of this structure, make the viewer a kind of uncertainty and anxiety. The counterweight to this kind of negative atmosphere, is the proximity of architectural drawing.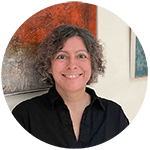 Manuela Mordhorst

Deutschland
The starting point of her work are observations of nature, such as structures and movement in vegetation, water, earth and sky. These observations are constantly mixed with the self-perception of the self as part of a landscape body in the process of becoming, but also as the stranger in it, which is always reinventing itself between symbiosis and individuation. She work primarily with natural materials, gladly also such, which She collect or manufacture by herself, as for example pigments. The material itself often acts as an impulse generator and propellant, to which she have to adapt flexibly and whose ideas to follow.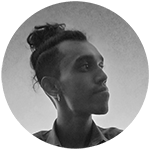 He is an Indian artist.Since last 3 years he is working with landscapes, still now also. He thinks that 'without naturalism there is nothing .'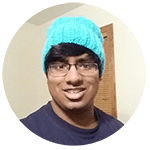 Michael Putorti

United States
He enjoys the expressive quality that lies within art. Through art he has been allowed to speak in a way that does not always require words. He is allowed to share my thoughts and feelings about certain topics, usually social or political issues. This may inspire others to voice their own opinions on the subject, whether they agree with my position or not. He says, " I want my art to encourage the viewers to think critically about something and draw their own conclusions.  Art is something I know I cannot live without. To me, it is both an experimental and an expressive process. It allows me to have a voice. One that speaks in the most creative and interesting ways possible. "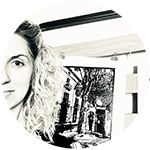 She works and live in Majorca, where every day discovering its nooks and crannies,  get inspired to act. In  graphics, she love to capture moments, moments, images that we pass without noticing their presence. The original, hand-designed, made and imprinted "Valldemossa" linocut is my tribute to the beauty of this place.Its uniqueness, mystery and people who cultivate and care that this place remains unchanged.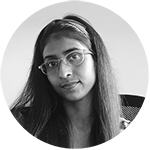 The subject matter of her art work is the environment  and the daily life of the neighbors. The different feelings of the neighbors come up in her work with personal feelings. Sometimes in that daily life she have tried to capture a moment of happiness and sorrow by working together as a family on a roof.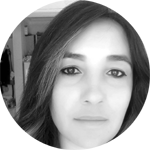 If a person who does not know himself cannot choose the area to which he will turn, he will scatter and get lost in a life he does not want. The basis of the work is the design that is formed in an effort to find and collect itself by integrating with the effects of this disintegration and fragmentation. The fragmentation of one's cognition, the fragmentation of his life, the fragmentation of his relationships, the fragmentation of his family-home, etc. contain elements that negatively affect his life. If a person can recognize these negativities and change them for the positive, that is his greatest achievement. The figure is taken from the profile, his gaze is cold and dull like the colors of the figure. There is a figure that shows itself between the right and left walls, which are printed with many patterns in colors.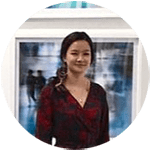 This 'Fraction' series ambitiously replicates the beauty and delicateness of traditional pencil drawings while capturing elemental shapes of nature's anatomy. Orchid Mantis (purple), Ruby Tiger (blue), Bombus Lapidariust (yellow), Lacewing (green), Hummingbird Hawk (red) were created a free form on Adobe Photoshop, starting with a single line, bent into shape, and manipulated into hundreds of layers. Details overlay each other to enhance the depth and density of the work. The series delivers the important message, to slow down and appreciate the simple yet beautiful things that life and nature offer.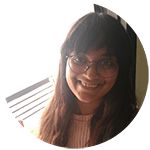 Simplicity of intuition always overpowers me, that how we make simpler things too tangled and intricate. And then there is a line of radiance and we click. As an artist, every day you get an opportunity to delve into the deepest desires of your heart and formulate a way of bringing them to surface. She intend to work with the idea of exploration. People always become her source of reading and understanding the things around . Distinctive quality of sensing the place helps her out to figure the facets of a situation.
With the supporting stick of dark light,she plays with the layers of luminosity. The shift makes it more alive by questioning the variants and analogous. This layered substance can get its own voice with the glowing neon. Its luminosity catches the viewers' attention and makes them see what is unseen and unheard.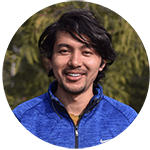 "Here my concept is on my journey in hospital. In this composition I had shown deep emotions of my inner souls and others things that balance with each other. In painting I myself compare with nature like flowers, water, wind and fish. Background is my own x-ray report which was taken for reference to compose expression of difficulty journey.
My past journey taught me many things; whatever be the situation life has something to balance like faith in myself through the blessing of god. In Buddhism Buddha's main teaching is love and compassion. IN Buddhism fish symbolises the freedom. In this painting, I myself compare with fish that want to be freed from negative things. Lotus symbolized pureness, love, and compassion.

My art heals me when I create and express my emotions through color or charcoal on canvas.
• I am hurt because of art, I am happy because of art. This is my faith and this is my life."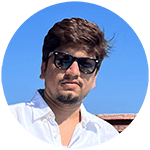 HIS WORK IS EXPERIMENTAL BASED ON INDUSTRIAL MATERIAL AND VISUAL MEDIUM PRACTICING, HIS MAIN FOCUS IS ON ONE OF THE MOST IMPORTANT MATERIALS IN THE INDUSTRY OF SIGN AND SAFETY WHICH IS USED IN SIGNBOARDS, THE RETRO-REFLECTIVE MATERIAL WHICH BRIGHTENS UP EVERY TIME LIGHT IS THROWN AT IT. HE IS TRYING TO COLLABORATE ON DIFFERENT MATERIALS WHICH ARE ARTISTIC AND INDUSTRIAL. ALWAYS TRY TO SEEK SIGNBOARD ASPECTS AND AESTHETICS IN MY DAY-TO-DAY LIFE. ALL THROUGH THAT PROCESSES, HE HAS BEEN SEEING EVERY MOMENT HAPPENING AROUND HIM WITH A DIFFERENT VISUAL . HE SAYS "SINCE THERE ARE TOO MANY EMOTIONS COMINGS UP AT THAT MOMENT, I LET IT BE THE FACE OF MY PAINTING. I GUESS EVERY HUMAN BEING HAS A TENDENCY OF EMOTIONS WHICH THEY CAN EXPRESS IN THEIR WAY WITH WHATEVER MEDIUM THEY FEEL COMFORTABLE WITH, MINE HAPPENS TO BE PAINTING WITH RETRO-REFLECTIVE MATERIALS."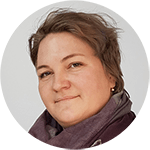 A professional artist, established in Cluj-Napoca, Romania, associate professor doctor at the University of Art and Design in Cluj-Napoca. The works  are made in a mixed technique that combines the textile surface with modern techniques of digital printing or thermal transfer printing. It is the result of artist's own research that have been done over a long period of time, a technique that  consider to represent her as an artist.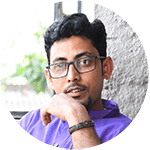 At present situation we are too much dependant on an invisible, strange media which is popularly known as NET (Internet). So in his work  generally use NET (Trap) to symbolize NET (Internet). One of the most important components of internet is BARCODE in which so much important information have been hidden which are unknown to us though we are depending on it. One more thing in his work is Frame which has no actual shape. It takes the shape of the screen whenas it is viewed but we are bounded in that shape. He want to do a research work series on this kind of concept on 2D or 3D surface.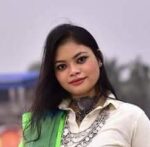 Riya is studying BFA(Indian Painting) in Government College of Art and Crafts,Calcutta. Belong from Andaman and nicobar Island and in her painting , showing six types of tribes of Andaman and nicobar those who are lost in crowds. She tried to show their art and culture from the first to four tribes are came from Africa and they are live in Andaman and last two tribes lives in nicobar Island and mostly tribes from them follows old tradition hunting and gathering. She says,  that not only "Jerwa" more tribes are their in Andaman which so many people's don't know about it now "onge" are going schools and working and Nicobari also we are staying around them but we don't know about them.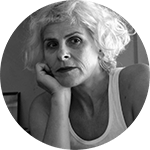 A poem that describes this work of art—-
When the  body  meets  other  environment
When  the  soul  meets  the  body
When  it  is  possible  to  let  go
To surrender
Then  the  miracle  is  happening
The  inner  space  meets any  kind  of  reality  or   material
A  tree
A  rock
A  stone
The earth
The  wind  is  whispering  the  river  is  roaring
If  you  come  on  another  day  something  else  can  appear .
THE  artist  is  leaving  her  studio  and  start  walking, for  one  minute  it  seems  as  research
A personal visual  research  combine  body  and  nature, myth  and  archetype –
the  heeler  , the  great  mother ,  the  goddess , mother  earth.
IT  can  be  a  research  of  the  artist  to  her  inner  forgotten  goddess 
Her   inner  
roots

  and  wings.
This  project is  an  encounter  of  body  nature  hope  and  despair.
IT  is  about  create   an  inner  new  reality  , create  a  new  world  that  wishes  to  be  found .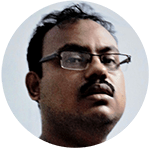 Samba Prasad Biswas 

India
His current body of works belongs to the 'coloured drawing' category. Started working on this series a few years ago. This series of work came to his mind suddenly. He keep old, discarded pieces of cloth for cleaning my palette and brush in  studio. These old clothes were once new and good looking. But today, nobody likes them anymore. It evolves a  thought to convey ideas with the help of these discarded old pieces of cloth . He manipulate them on paper with coloured inks to manifest deliberate statements that reflect various aspects of our life. It is needless to say that while rendering,  alter the texture or colour of the clothes a little bit to make my work meaningful and visually balanced.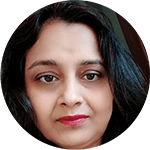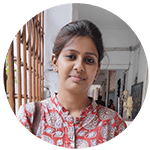 Her visual practice as a photographer seeks to examine unspecified correlations between human and non-representational forms or man-made structures Somewhere, venturing into desolate places like iron mining areas, steel plants introduced me to real challenges faced by the people working over there. Those that accept it in its entirety just build a legal relationship with the city's odd vibes. And, in keeping with the theme, She created an opening one that depicted the daily lives of individuals who live here in a genuinely typical atmosphere. With its ever-changing scenery, which has long piqued the interest of many photographers, this city bears many traditional falsehoods as well as a constant sincerity.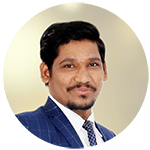 As an artist associated with the medical college for employment reasons for the past, where he prepare models for the embryology class….he have been in constant contact with the human fetus. The steady and consistent presence of the aborted fetus, sometimes healthy, sometimes deformed in eclectic shapes, sizes, textures & colors, to be preserved as specimen in formalin triggered this series of visualizing life inside the womb,  his compulsive perceptions of life, death, pain and the irony of a possible living legend resting as a specimen. He says , "I have chosen paper as the medium for its sensitivity and for being symbolic of fragility as of life. The palette is dull, muted and not very often with a dash of contrast but latter I'm trying to use some vivid colours glimpse of urbanization in the work which I feel one reason of these aborted fetus. Deliberating the material such as crushed rice paper, data codes, stamps, seals, needles, etc were used. In this particular have tried do a collage which represents nine months' time period of fetus in mother womb which were visualized in the work. Ongoing works of mine were more of representation towards the visual perception where I have paper pulp in the shape of a mother's womb and worked on the ripped thoughts and compulsively probing into the biological and technical reasons for this untimely negation of life and the impact of it … psychological, physiological and emotional on the parent, my series on one hand has emerged in a saturated gamut of cloistered and subsequently erupting visual shots and on the other hand as a source of knowledge giving scope for immense introspection and tracing arguments with regards to life nipped before birth or just death before life."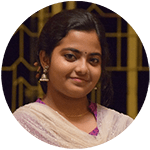 Looking past the obvious, always looking for the truth, close observation and engagement of subject is her process. As a communication designer, her goal for this project was not only to create a painting or sculpture which will only have emotional benefit! She also wanted to create something which will have functional, rational and as well as emotional benefit! After going through several study about the Divine Comedy, psychology and many more researches, She decided to make a board game which will be interactive.
In the game, we can see a check board of 45 boxes with snakes all over it and 18 windows surrounding the checkboard.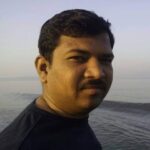 Shivayogi R Annanavar

India
In this beautiful world, In the era so many incidents occurred. Those incidents Inspired him to create such art or prints(Painting). Hehad drawn formed and unformed paintings, These pictures give us happiness to mankind in this whole world.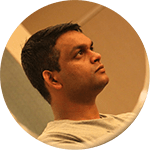 Shrikant Narendra Puranik

India
Some of the monuments have a backstory of debates that can give insights into the culture, history and priorities. The governments around the world are ready to spend a huge amount on statues and monuments whereas the problems of the homeless remain unresolved. He came across the incomplete statue while travelling around and due to lock down the the spot remains lonely. Few thoughts keep raised in our mind specially what happens when a good leader goes missing and his pet takes his position. The metaphor triggers many thoughts and questions that remain unanswered.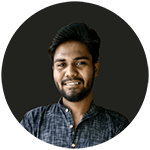 In his work, often like to talk about the collective notions and politics of modern human society, about the individual's adjustment to it, in a personal arena. Where an individual contributes and gets affected by the collective process of the social system or sometimes just plays a role of an observer.  
With visuals, he likes to introduce wit and puns in work. In that process, Image motivates him to start the work first. It gives a certain sense and feeling to choosing the further adulteration into the image and deciding the dialogue for the work. He has a  tendency to use text, like to use this element as a controller which holds the subject to certain specificity.
He  had started  making a series of sketchbooks and this particular books is about how our knowledge or education is get constrained by so many external and personal affairs. His work basically deals with the idea that how all our knowledge, experience and exposure for not enough for not to get inhuman violence, disbelief, cruelty,  greed are something  what we all experience in our daily life and after being in a civilized society we lack very basic human qualities.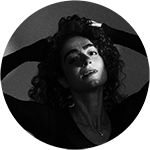 The key matter that moves Stella as an artist are the connections between constructed social spaces, movement and poetry. In her work as a performer, she aims to explore the concrete space of the city, the woman's role in the community and her gypsy family background as a starting point to create new imaginary spaces and narratives. How to insert the woman in this dialogue in a ritual sense in their respective urban jungles, observed by nature in the open and touched by the incessant poetry of those who seek the encounter with themselves. How to recreate the world in combination with Stella`s memories and fantasies which requires movement, strong images, and a way of being in touch with the ghosts who linger in chosen urban spots and inside her story.
CREDITS
Director, Creation, Images, Performance – Stella Brajterman, Editing- Cris Azzi and Stella Brajterman, Colorist- Humberto Mundim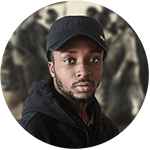 Stephen Abban Junior

Ghana
A Ghanaian illustrator and contemporary mixed-media artist currently working and living in Sekondi-Takoradi and a native of Mankessim, in the Central Region of Ghana. A short-term memory loss ushered the skill of illustrations on his mother's bedroom walls during his early childhood. Those illustrations were means of keeping memories and helped to recall stephen's thoughts, morals, and values passed on by parents. Episodic memories are some of the capturing subjects he portrays in his oeuvre, he synchronize the process of aging and history. He thinks that, "As human advances, there are possibilities of keeping blindfolds on their history and going through life without it. As humanity advances so do we advance with nature and its history."
Like to explore themes of fragmentation and experiment with shapes and forms and the way they intertwine with each other. The automatic drawings which was developed by the Surrealists from the 20th century have been a heavy influence on my work and only when filling in the initial drawing with colour give consideration to what the final piece will look like which gives a balance of absolute abstract with no control and a considered deliberate piece of artwork.
She have been collecting old furniture and other discarded items to use as my surface to paint and draw on. They were no longer wanted as cupboard doors or chairs but now perhaps they will be consumed by our society as art. There's always such an abundance of old things people have thrown away because they want to buy new things.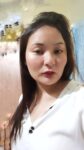 Thinley Dolma Gurung

India
This piece is an experimental execution. Symbolically, various experimental humanoid and visual iconographic elements are objectified in this work. Here, the connection of the two spheres meets at the opening of an eyelid like sphere from where the fragile veins of the heart arise coping through one foreign element to the other among the complex intersected circumambulation, spirally revolving congested linear spheres and eventually gaining a breathing space even among the complex tangle wires of iron bars which symbolizes the concrete building armatures. Below part is an ornamental ceremonial object-like mound from where the root of the heart is connected. Despite its ornamental materialistic focus, the bones parts of a human body are isolated from each other inside each of the frames. And, this whole intricate ritualistic like an object float on a vast various intertwined tides of water body which brings a sense among us about time, space and human.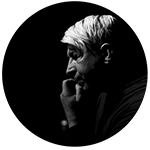 Tomas Lagunavicius

Lithuania
We are born as a blank sheet of paper and do we fill it with meaningful and useful things throughout our lives? Sometimes that sheet of paper stays blank because we live thinking we'll fill it sometime later. However, in critical moments of our lives such as quarantine, natural disasters, or war, the opportunity to fill that empty sheet disappears. And then the world deconstructs us. Lucky you if there's something to deconstruct because sometimes we're just a blank, white sheet of paper…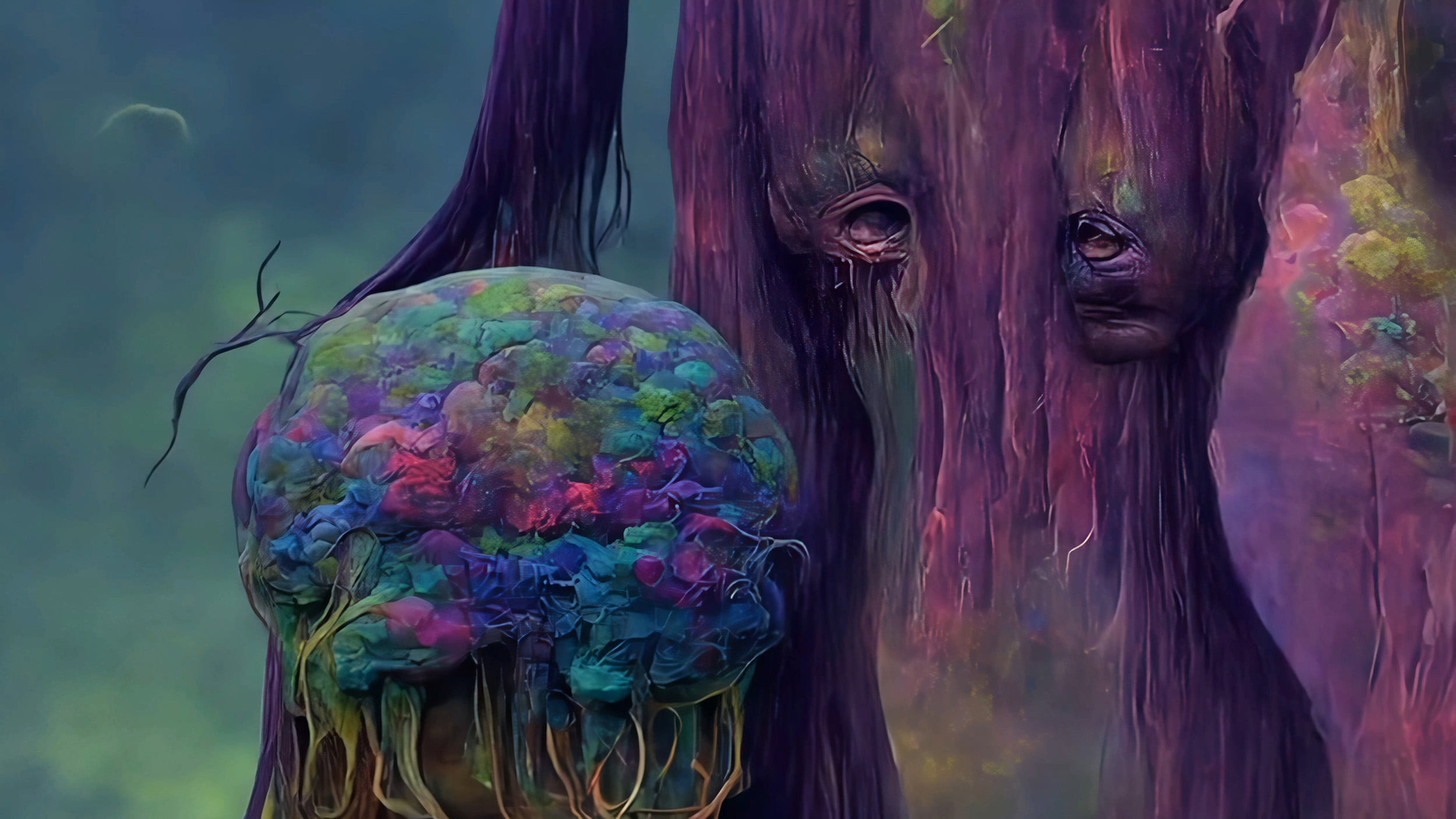 "Sueños Algorítmicos" (Algorithmic Dreams) is an audio visual project in the form of a musical album with nine songs with their respective video clips.
The whole project (songs and videos) are made with artificial intelligence.
The songs are slow-paced, pop, new age and chill out melodies abound, all of them with their corresponding videos that will try to take us away from the speed of the outside world.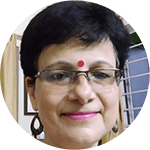 Her artwork is an extension of  thoughts and reactions to my surroundings, memories and events that are happening or have happened. Over the years my art making practice has included varied mediums. In recent times, She have been working a lot with papier mache as find it to be a medium which satisfies all the areas of my artmaking practice-namely sculpture, painting and printmaking . This paper mache mask entitled 'Ukraine -2' is one of a set of five masks that She made which reflect sorrow, death and destruction in the decayed face highlighted with blue and yellow-an artist's interpretation of war and the devastation and destruction it brings.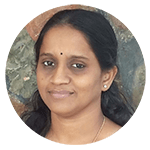 Her Art   works Explores  different kinds of Emotions  of  Self  like, Pain, Anger, Sadness, Peace, Fear, Joy . which changes according to the situations and conditions .  She also state that her art works  creates different kinds of feelings in viewers  mind  which is again based on viewers state of mind. Her works are in the form of Abstraction which includes  different kinds of Texture, Forms, Shapes and Colours. Also she  use inkjet colours and water colours in paintings and LED lights at the time of Installations.
Thank you for visiting our exhibition.
Please leave your valuable comments below.