The Pandemic Situation badly shook the world for which the world is facing a toll of death, people are captive at home due to lockdowns, wearing masks became a compulsion as a safety measure, In this perplexed and critical situation, a mush of fresh air is blown to the artist community through an on-line website named motileart.com. Seventy creations by different artists from different corners will be showcased through this online exhibition from 15th July to 15th August 2021.
               I Believe that in this environment, the viewers will also get fresh air by going through the exhibit. Thanks to the entire motile team from my part.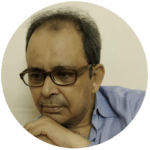 CHANDAN DAS
Printmaker &
Associate Professor (Printmaking Department in Charge) at Govt. College of Art & Craft, Kolkata
Click on the Artist name to view Artwork individually or scroll down to view all artworks.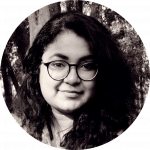 Myself Adwitiya Sarkar from Siliguri (Darjeeling), West Bengal, India. I have completed my Bachelor of Fine Arts from The Indian College of Arts & Draftsmanship and completed my Masters of Fine Arts from the University of Kalyani.
My paintings are based on landscape. l always find many similarities in this landscape with me. The natural scenery around me since my childhood has attracted me in many ways. I can connect the various changes of landscape with my moods. Colour, texture, the surface is also a very important part for my paintings. It helps me to capture the different variations of the landscape that changes over time. It seems that texture reveals various aspects of the landscape. Sometimes I add some objects in my paintings that I can feel, and I can relate with society and me.

is a series of graphics inspired by the flashback of graphic images collected in my own memory. Everyday life generates hundreds of views of reality that we record or not, the ones we realize are there, and the ones that are gone are only recalled as memories. I try to put it all in a real and unreal space at the same time. Between what surrounds us and what we see, the picture is born between the eye and the mind. Reality and fiction become the material from which I build virtual spaces.

As work is our media of Identity, no matter how it is full of struggle still we see inspite of the pertaining Covid situation where we r staying at home  but the hawkers are relentlessly roaming for selling their goods which they carries! In another connotation I have tried to showcase the extreme physical & mental exertion they are not only selling those for earning but I can see they are the 'Harbingers' to me who are coming daily to feed me. My work is to pay my Regards to them.
Myself Ajoy Das I am born and brought up in Hailakandi, Assam India. I completed my BVA (Specialization in Applied Arts) in the year 2010 and I completed my Masters of Visual Arts (Specialization in Applied Arts) from the Department of Visual Arts, Assam University, Silchar with Gold Medal in the year 2012. After that I was engaged in Kendriya Vidyalay, Karimganj Assam, India  from 2014 to 2016. In the year 2017 I got appointment as  a Faculty of Fine Arts in Patharkandi College of Education, Karimganj, Assam India. Still now I am working here. 

I have always been fascinated by nature. Naturally, I effect by Painting. Seeking a challenging opportunity where I will be able to utilize my strong organizational skills, educational background, ability to work well, in a multicultural workforce, which will allow me to grow personally and professionally. I am self-motivated and able to work independently as a collaborative team member.
Human sacrifice is the offering of the life of a human being to eternal life. Human action sacrifices the moment of his life. The occurrence of human sacrifice can usually be related to the recognition of human blood as the sacred life force. Bloodless forms of killing humans, however, such as strangulation and drowning, have been used in some cultures. The killing of a human being, or the substitution of an animal for a person, has often been part of an attempt to commune with a god and to participate in the divine life. Human life, as the most valuable material for sacrifice, has been offered in an attempt.

Painting on Leather is the result of my experiments over the years. I create paintings with leather colours, photo colours, pen & ink on leather, through the preparation of leather painting and its process of preservation is laborious and time taking. Maintaining all the special features of a painting on canvas, I prefer to use the medium (Painting on Leather & Vellum)as my means of expression. I am Calcutta based practicing artist & experimenting with newer and newer techniques. Done by Tanning rawhide and then painting on it, I  use smearing colors on Leather to create images from life and nature, spirituality and rationality.
        My Subject is "Do not Destroy Nature & Environment". This is my new series of paintings. Here I promote animal rights ……voicing environmental concerns. Some Plunderer of Nature had been destroying our environment till today. We must be concerned and protect our environment.

My name is Anupama Trigunayat I am an abstract artist .The gift of form is a profound homecoming " as some one has aptly said .The form , shapes , array of colors in my work is a reflection of my  own abstract vocabulary and imagination connecting with the real and the surreal . My work is seldom planned instead it evolves into a finished painting with good energy , juicy paints and delicious bright colors . Every canvas is a new beginning , a new story and my tranquil retreat. My art has been a very personal affair for me for a long time . My work has been greatly influenced by international art . Having lived in different countries because of my husband's job , I had the opportunity to appreciate and assimilate different traditions and techniques and multicultural ethos 

My recent practice is evolving from a sense that the world is full of inexhaustibly interesting experiences, and the experience grows further by understanding socio-political and environmental as well as looking deeper into self-experiences. I combine my own perception and other visual sources with imaginative narratives.
Throughout history, artists have responded to social concerns around them with artwork that depicts cultural and religious dogma, environmental degradation, and political power structure. I believe that there is a relationship between art and how it creates a dialogue around social justice. My goal as an artist is to create artworks that are personal and which also express a sense of social responsibility.
Through the documentation of my surrounding time and space, I also engage the self and the body to create a dialogue about the same. There are instances that my mind captures intuitively that gets incorporated into the works and drives me to explore more. And the language of the work might derive from a very personal level, which is also very local, but I also want it to be a universal language at the
end.

The concept of armature has always fascinated me since the day I met with an accident in 2016. I have been faced  problems with my spinal cord and hip joint till this day. The real relationship with art began after the same event. I have been surfing through a wide variety of contents, subjects and perspectives to seek out something more real than the superficial artworks which I see around me.
As an artist as well a patient the idea of fragmentation excites me. So my audience finds various images, drawing, installations, and sculptures of various bones of human anatomy along with the images of an abstract relationship which is extremely incomplete if expressed through words but also fails to be complete if presented devoid of syllables. Phonetics does not play a role as I feel the process happens silently.
My art process is a micro scale of the phenomenon happening around me in a macro scale. The artworks creates an opportunity for me and my audience to explore the connection between the micro and the macro scale of life through this decaying factor and celebrate it.

I choose sewing knitting as my artistic expression because for me sewing weaves reflect a kind of growth pattern of nature. The structure of my work represented evolution, connecting human emotion and emotion through these patterns of nature. Luckily being born as a girl I noticed these patterns in nature during my household chores. The idea of my work contained a reflection of those memories. As it has always been reflected in my desires, I expressed those patterns through my work, which gives me inner satisfaction. My work is all about my daily experiences .What I see and feels everyday all reflects in my work . It's not came from fantasy world it is my view of women's reality . The techniques used are not same in my every artwork but it partially changes in my series of work .There are a striking point of reality, concept and visual part all have equal importance in my work. All these things that are related to my work or my thoughts came from my experiences, I've started with my household work since my childhood – such as sewing-knitting. Needle, thread, scissors, clothes, etc. all household items surrounds a woman's life . All girls have to do this work in the house, that's why in my memories these things are embedded in me and I made them my subject because I like them.

Passionate artist working consistently in drawing and printmaking media and achieved recognition in various national and international level art exhibitions and camps. Works unite places of Kolkata City (The City of Joy). Colourful artworks pay homage to her homeland. Distinctive personal style emanating joy and expressions of the vibrant spirit and atmosphere of Kolkata. Picturesque landscapes, brought to life with contrasting and harmonious colours and compositions.Without the ability to actualize an idea or concept, art would not exist. My artwork is constant search for the best way to interpret the ideas that I have about myself and the world live in. I don't limit myself to one medium, style or concept.
Inspiration and ideas changes. Each artwork I create is simultaneously an extension from the past where I've come from and what I've learned, as well as a preview of the future, where I'm going

Red Cycle,2014
The work started with the wish to execute the emotion during menstrual period, where, crumbled with pain and even fear with almost no strength strong enough to pretend to be okay, being selfsufficient ready to obey and react with any external force, I tried to portray the weirdness of being and fight of keeping self, living in dilema or any other emotion that I was finding hard to express.
Born at Agartala, Tripura. Freelancer after completing masters from GCAC Calcutta and graduation from GCAC Agartala. Now practicing in Kolkata with participation in various art projects with irrespective to the choice of place.

The artist, who received BFA from Sree Sankaracharya university of Sanskrit and MFA from Government College of art and craft, Kolkata, says he hopes his artworks give people a feeling of inner mind view.

 In  my view, beauty does not belong to the object being represented but relates to what we experienced through them. The quality of an object is derived from it's utility and also , the essence of a thing does not lie in it's physical structure but it  lies in its utility. I was fascinated by the social system in the present society , and I was very much like to portray the social class with their behavioural conduct, status , importance and social identity as a specific character. Their differentiation of social class has a deep impact on my mind since I was witnessed and felt repressed emotions. Everyone has a different life style , needs , desires which connect to their status. the changes happened based on circumstances, feelings ,emotions expressed in my work not directly but through the objects which i encountered daily ,those are relevant to my subject .my interest on drawing led me to do in etchings and try to experiment with another medium .I used copper wire along with drawing which are more flexible and gives fineness to the work. It creates sensibility to the object .

Creating or art is my life. It is the inner need that drives me. That is the need for the imposition of emotions and experiences It is research, it is a game, it is challenge and  need for a frequent change. Sometime my motivation is nature that I see, or in other case just my internal life, my thoughts and beliefs.
I do sculptures in wood. Love it. Love smell, colors, structure, hardness of wood. And yet the wood is alive, supple and warm.
Most of my sculptures are abstract in form. Some of them suggest an abstract reality with their shape (human body, waves, …)

My childhood experiences of growing in a family rooted in the traditional forms of spirituality and my encounters with the modern life style and its morality in Kolkata created a sense of conflict in me. Through my works I try to bridge those conflicting concepts.
My works dwell in the grey areas of conflict and contradiction that is inherent in the contemporary Indian psyche struggling to bridge its tradition with modernity. Our traditional religious and social practices and morality which seems to be obscure and illogical to the rational and mechanical modernity yet their generalized prominence in our daily lives creates areas of conflict and confusion for me. In my works I try to revisit those grey areas where traditional thoughts often clashes with my experiences of modernity or are recontextualised by it. Thus, my body of work consists of a diverse mix of forms, images and textures are juxtaposed with each other.

As an artist I am interested in causing an aesthetic event, that works of art hit you out of your reality, inviting you to think and reflect on the world in which we live, a consumerist society marked by capitalism, my work revolves around this premise, for which my themes start from the terribleness of the possibilities of the human being, the perfection of the body, the relentless search that some humans have to want to endure in time in some way, in the same way I contemplate art as a world of possibilities that allow us to play between the dead spaces of laws and bioethics, my work has a marked social criticism towards consumerism and capitalism. 
My work focuses on research-artistic production focused on ways of living and perfecting the body, in search of the perfect corporality, which is why in my work I use the bimodal and bio thematic lines of Bio art which allow me to express the aesthetic possibilities of a cultural imaginary that seeks to go beyond the human body. Likewise, that they show the possibilities of keeping it beyond death or that they address the various probabilities to intervene causing its perfection. In the same way, in my work, the borders between the human and the machine are blurred to mark an approach to the creation of the prosthetic body.
BIO-CONTAINER
Idrótas belongs to the Bio – Container series of works, in which I reuse bodily waste to make commercial products with which I seek to re-signify the human body and its bodily fluids, to make them "one more animal for consumption".
The idea is to dehumanize and question the views of religion, culture and society to pierce the way in which "people dehumanize others or themselves."
The objectives of the project are to transgress the body, separating it from its state of marginalization, its rites, customs and habits to give it a banal meaning that is seen as a consumable product.

I concentrate only one particular content which I found around my villages,  whatever I see and whatever I feel about my surrounding. When I got a lot of time in Pandemic situation, I really wanted to work on that situation and I did a lot of layout work with that time. Since before I used to work semi realistic, but later I tried to be more creative and I also tried to add more new textures, multiple color and what else can be input, with that thought I do a lot of work now.

My source of inspiration being Mark Rohtko's work of coloured filled paintings made me question their possibility and drove me to apply them to my work resulting into some amazing texture. The explanation of the way how two colours emulsify with each other but still remain so dispersed to reveal their own attributes kept me engaged. I love the process of expressing it in my art more than verbally explaining it to the patrons. I wait to observe the behavior of the colour, I observe how colours spread apart, how two colours get mixed upon themselves and what effect will form at the place where two colours meet . In this painting I paste cloth on the canvas  to dispel the flatness .
There is a tendency to overlap things in my works. That is, I think, because, in a day we all went through many incidents which generally take place one after another randomly, they don't have any correlation among them. I think that's why overlapping get into picture in my works.

Throughout my work, I investigate coffee as a medium through various ways such as brewing methods, experimenting with drying times, mixing my own concoctions with egg tempera or modelling paste and exposing it to the elements. Coffee as a medium affords me a multitude of technical variables and a set of connotative variables. I mix these variables with the social connotations coffee holds in our modern day society, to explore the parallels of human fragility and emotions to the evolution of current times and the passing of time.  The way coffee moves on canvas holds an air of randomness, I have no definitive control on what the final outcome will be but I am able to add variables along the way to influence where I want it to go.
Like human behavior, my work is largely based in the abstract but I am able to guide the canvas by adding different variables in the making. Each painting takes anywhere between a month to 2 years to complete, and 10 to 120 layers of coffee. It's a drink that changes through different cultures, a drink that's come to represent so much more than itself; & it's only fitting that coffee is used here in my study of human behavior.
Its chaos but it's also structure, this juxtaposition mirroring the contradiction of trying to map out something so undeniably organic like human behavior through a something as simple as coffee can only be defined as Quantified Chaos.

The work I chose is a graphic made in the technique of flat printing on fabric. It is a continuation of my series CONFIGURATIONS. The symbolism of fabric, drawing and arrows are important to me in this series. In this work there is also a text which is a record of my experiences and emotions accompanying me during the artistic process.

In the current political discussion, the term oxymoron is usually used to make falsehoods  and autocratic abuse of power a normal thing. In art, especially in the literary, the term oxymoron has a liberating and subversive meaning.
Oxymoron is the belief in doubt, the interest in boredom, the weariness of beauty, the passion for tranquillity, the sarcastic sensitivity. Any deep transformation of our relation to others, begins first as a deep transformation within ourselves. Love is the path of least resistance. The oxymoron unfolds in my work of art: love creates pain, but it heals it, the truth enlightens, but it also arouses doubt, corporeality, even horniness craves holiness. The artwork is like a conversation partner that stimulates our critical awareness and inspires us to analyse reality from different perspectives.

Myself Faria Khanum Tuly. I was born in Jessore, the district mentioned in the poem named 'September on Jessore Road' by Allen Ginsberg. My father being army personnel, I was raised in cantonments where I have always observed suppression of desire to express in people under strict rules and regulations. This is why I try to exhibit the inner reflection of human desire in my artwork. I'm an independent artist. I've completed my under graduation from the University of Dhaka in drawing and painting. I also have completed my Graduation from the same institute in the same subject. Right now, I'm a Master's student in the painting department at Rabindra Bharati University, Kolkata.
Eyes Full of Breath
People leave with the breath. People love to leave with deep fresh breaths. But in this time of the pandemic, this breath of trust is faded with fear. It's hard to move or to trust the air to be taken. People are stuck, but the eyes cannot. The eyes are still full of dreams that they are waiting to explore the world, to take a deep fresh breath with trust, when this all ends…
Fernanda Morales Tovar, Mexican, b. 1992. She is a visual artist whose work explores the analogies and dialectics existing in the environment that promote the conjunction of nature and urban devices in everyday life. Through a visual archeology based on the interpretation and proposal of signs of the intersection of spaces, the human being, the stories, the ruin, and the landscape, through the use of paint. She earned her MFA and BFA in Visual Arts from the National Autonomous University of Mexico. She did an Academic Research Stay at the Complutense University of Madrid, Spain (2019). Her work has been exhibited in various museums and institutions in Mexico and the Netherlands, as well as her work is part of the Lumen-Mexico Collection.

I spent my childhood in a rural environment . Because of the poverty in the family, I had to hear from everyone that one day I have to be established and build a house. I also thought so too. And so my interest began to go in that direction. That's why since childhood I was interested in city tour or even city houses. When ever I went for a walk,I used to see houses in there and those were kept on revolving in my mind. When my mother used to watch TV serial, the beautiful buildings and houses of that serial made me think rigorously. In later stages i felt those things reflecting in my artworks.

Although I was interested in the city houses,but where I lived the atmosphere in the village made me think Usually the architecture of the city is made of brickss, sand and cement etc.but I have made installation with the things I have seen building villege House like soil,bamboo cane etc. I have installed the form of this architecture without any proper measurement. While doing the work I was thinking of many architectural imeges. My thought process became very fast while doing the work like the thought of another image came to me before it was over. So I mede this istallation by breaking and rearranging many architectural forms.

Emotion is the most important part of life. It helps people to make themselves a human being. But today humans are busy with their android phone- taking selfies & pictures in every situation, busy with chatting, playing games etc. And every time they used to upload their selfie and status in digital media for like share and so on and so forth "Let's take a selfie first and then do other things' '- that is a so-called motto of the younger generation today. Also they used stereotype emojis as a replica of their emotion in digital platforms rather than how they really feel it. Excessive use of android makes the mind feel tired, depressed and emotionless. I personally feel this typical vexed situation every time. And started questioning myself, what is my real emotion? Is it true the so-called emoji's to express my real emotion?
From my personal concern I Do my art works on the basis of Emojical society; the kingdom of emojis and android I depicted in a surrealistic way.  In this particular artworks i am trying to depicted that condition.

The natural parts of elaborate forms are being expressed in a composite way with my inner perception. I am trying to presents different kind of natural segments which can be related with different aspects of biological existence. Also assemble with  kind of imaginary body essence are merged with the circular form. Which can be express with a part of natural existence, types of micro essence and particles are placed like a condition of natural process of ecosystem. The circular area is representing a certain period of existing with process of life. Natural entities are blooming in very simple way and trying to preserved and revive the remnants. My experience with the beauty of nature through my journey, which always leaves an impression on my life and art.

I work with simple shapes and complex combinations of images, limbs and characters. My main techniques are photography, poster design and street art.
My artwork is a contemplation of the turquoise energies of the postcovid era. The figure of a woman shocked by what is happening in the human and non-human worlds.

This art work have all the influences of our present situations. We are all going through a difficult phase. A feel of nothingness and helplessness is around us . And it's all indefinite as we are all hurt by the loss of our close and distant ones .

My name is JOYDEEP BHATTACHARJEE.I am from Agartala, Tripura,the north east part of India.By profession I am an artist and a teacher of Govt.college of Art and Craft ,Agartala,Tripura .I completed my M.F.A from RABINDRA BHARATI UNIVERSITY,KOLKATA.i want to express the relations of our socity,beauty of nature,Daily life style,pinched by our society through my Painting.

I belong from dooars where nature is about greeny hill scape and tribes .all those things are reflected through my works. I like to work with direct curving in stone and modelling with plaster  with spatula handling. My works are highly influenced by Alberto Giacometti, constantin brancusi  where  artist worked with material's truthness.

Talking about the process and its concept:  basically the journey of my art practice  began with self- experience and evolved through an understanding of different identities. It all started with a journey of self- emotion and self-realization ; Facing reality. I am always overwhelmed by some critics, new experience and emotion or feeling. My vision stems from that situation. Some of these experiences become the subject of my position. And it talks about my situation and between my knowledge, emotion or feeling. I have try to simultaneously reflect my situation and events in different situation. I am going through in my composition and simply create my artwork with my own stories. I use stitching, cotton, soft mattress, texture and some random object. I have also found myself engaged with the part of my daily life.
 I spent most of my time in bed during this pandemic. Every time I look at this empty bed, why do I think the impression of my sleeping body is in different positions. In the same way when I look at myself I don't know why I see the sleeping impression of that empty bed in me. Is my brain, body and mind still in that sleeping state?  Sometimes I can't think of new thought or experience. Many times I think of my self as an object. There are many questions in my mind that take shape beyond the identity critics
My drawing and printmaking composition is based on the Eco-System of the Environment of the Nature .My first focus mainly consists of living beings like insects , birds, beasts, fishes,  etc., which effect  highly  the   Eco –System of our environment . My home is situated at a remote village named Kanjiakhali . My family was  shifted from that village to a semi-town , Uluberia in 1999 . It is studied here that the Echo- System existing in that remote village is not available here . It is somehow deteriorated in number, degree, attraction , appeal , etc. The normal natural environment has lagged behind and artificial world is covering the area with its own status, which is full of pollutions, as urbanization is developing day after day . Accordingly, trees, plants , herbs are vanishing , the degree of pollution is growing on . Electronic waves run. These affect the living beings greatly .Wehave Bee – Apiary where bees are dying countless pre-mature death . Existence of living beings is at stake. Simultaneously trees, plants , herbs are gradually vanishing . On account of my arts works, I have to ply Uluberia to Kolkata and I experience various sights of the nature being swallowed by pollution gradually . As I proceed on from the remote village to the town or city, it is noticed that the blue sky is gradually turning to gray , grayer and dark gray ; and also the pollution of the natural environment adjacent to the earth is also developing gradually higher towards town /city .This invites the destruction to the civilization which moves me greatly , being a social human being .

I'm Kaberi Gan from India. I'm a student of Graphic Design and photography is a part of Graphic Design. If you observe my work closely then, you will see there is a concept and I am trying to develop every time. I believe photography is based on the concept. Hence developing is one of my primary goals. Whenever we see any photography it makes us things. every photograph tells us a story and I am trying to follow this rule. I like what I do and I hope you too.

The present time is very volatile. The whole world covered with death march Overwhelmed by a terrible epidemic. All the people are under house arrest .  I am not out of it.
The idea of my current art work depends on my surrounding environmental situation. Also the current political situation the context is what I infront of which see them in my art language as applied to do. That pandemic situation very scared. Lot of people have died. Medical system is poor level. This perspective my creation. I enjoy space, forms, dimention the nature of the relationship association it in my art work. Here I used some earth colour, ink, charcole, softpastel, rise paper pasted on a handmade paper etc.

my art work is a reflection of my observation.

When I see the environment of my surrounding, I can feel the pain of my society,  some of those things make me sad, it makes me think, and it hurts me.

Usually the painful aspects of my society move me more. Those things go deep into my mind that became the cause of my pain, so I tried to express my feelings through my art works.

My idea of works is to portrait my profound observations to the life of people I live with or might be I experience them through the social media or to evaluate the sentiments I have towards the animals like cat, cow, dog and while constructing all the form I endeavor exempting oneself and moving beyond the binaries to be spontaneous and facile. Sometimes I elect images from living things and form and place them from a narrative mindset as I like to ennoble a dialog between all the images. I designed the background as supportive colorful element which boosts the images to stand very prominently. 
Using of spontaneous, bold, wavy and unsteady lines is the strategy of personating the state of mind and elicits the sagacity of confronting the situation like joblessness, repeatedly shifting, boredom and impassivity shaped during lockdown or because of lockdown. And most importantly pencil is being the part to my life's up and down as attester throughout the incipience of my art journey. The shape I draw specially around the human figures as periphery or the border where they live in or to raising the question that, are human being controlled?

I am Professional & exploratory artist who enjoys paintings of different styles. I think art is all about dots, lines and colours living on canvas. A perfect combination of colour scheme helps an artist to bring the feelings & thoughts on canvas making a lively painting. In my Art I have captured the beauty of dots, lines and textures that to depict CHAITRANGAN, each element has a significance – prosperity, life… There are different auspicious symbols that are drawn in this painting. There are some variations in the number of symbols that are drawn as Om, Swastik, sun, moon etc are some of the symbols used here. This painting is a way of welcoming the goddess who has come to stay in home.

I am Mahasewata Biswas and I am from New Delhi , India. I always love to do art from my childhood so I pursue it as my dream to become an artists. I love to do both abstract and realistic work.
The concept of my artwork is about mental disease specially Depression, anxiety , how people negative word hurts people feeling and how people surrounding effect a person. In this series of painting I am trying to show the people state of mind of people when they are in depression and how its put impact in there life .The negative word said by society bring more more harsh situation for the people and change his/her way of seeing . It corrupt a person thinking power and cause them to become more depressed and have anxiety issue.t he faces represent the negative thing said to a person , they are countless like a hairs and stuck to a person life.

Currently Appearing for final year exam of Masters of Fine Art Printmaking in Mumbai and since came across and quite affected by travelling through local trains, wondering in the art world i came to understand that Every single element in nature is interconnected through a common aspect of Humanity.
A train is the best element to represent that all people belongs to single family of human kind. Since there is a growing dispatched struggle between these mindsets, it's a need to interconnect various entangled wirings of our nature God through the connection of empowerment. As various shapes, wires, infrastructures are connected similarly, numerous human beings also share psychological interactions through the medium of travelling or conversations.  Hence, through this sufficient medium of etching I have tried to reflect my expressions and observations of everyday struggling still enthusiastic lives by taking the single component of train.

Through my work in the visual arts, I explore architecture and the abstract forms that derive from it. From it's geometric forms and structural elements, architecture as art is a great inspiration to me like a sculpture gallery. I don't see it as a routine part of life, rather I observe it as an entity that stands alone. From its most intriguing parts I make abstract forms which are structural compositions in my paintings. These compositions have an independent scale which puts the viewer into the thinking process about choices, decisions, goals…

"STAIRS" are a series of paintings in large dimension. On the canvas a section of the stairs is presented like a static picture, but for the viewer it is a stimulant of thoughts, movements, and decisions regarding direction. Shall I go up or down?
A question of decisions to accomplish our wishes, goals, and affinities, and stairs are the means.

I born on 8 july 1972 in the village Khajuriya Kasam of District Sihore in Madhya Pradesh. My Father work as a Carpenter . My interest in the artwork  had started at the beginning of my childhood. I completed my secondary school  from  the village and I had went to Sihore for Higher secondary  and then got the degree  of B.SC. (Maths) form the district(Sihore).  I completed my Master Degree in Fine Arts from Indore. Then I joined Daly College as a Painting & Sculptor teacher and gave my 13 years of teaching, after that I resigned from this post and spent  my whole life toward the Artworks. I create my Artworks  through my intuitions. With the help of my artwork I tried to give joy to audience.
Art is an integral part of the human community. Human life along with an art seems to be flourishing. In social community felony, turbulence, intrigued environment of impulsion and by the medium of an artwork, it let me to encourage to find out my soul.  By the medium of my Artwork I will try to find out the Supreme Supernatural welfare that is far away from physical sense. The residence of Supernatural welfare established due to conscience of human being. The Artwork which is created on the Spiritual Subject having color designs, borders, shadow, or light and by the means of it one mysterious myth like realization occurs.

My name is Nabin Das, an artist by profession, age 40 years old, living in Kalkaji, Delhi. Professionally I'm working from last 17 to 19 years. My birth place is Siliguri, Darjeeling District, West Bengal. In 2018 I'm settled in Kalkaji, New Delhi to establish myself in the World of Art and Artist. Now I am finding my way to go foroward. now some words about my artworks- My artworks are mainly based on dream. Each and every dream has its own story. In my work there is a wonderful mixture of dream and the reality with surreal effect. Emotions, attachment, relations, hope, happiness, joy, love, fantasy, memories, beauty and specially life can be seen in his surrealistic work. Every artwork has a game of balance in between some heavy and some light objects. The most interesting thing is the 3D effect and detailing. In every painting there are some flying object, which makes the painting more interesting and meaningful. As well as the artist take a especial care in the background also. Over all each and every painting describe a detail and interesting  hidden story.

Myself Nadiya Hasiba. I was born up in northern side of my country Bangladesh. As I grownup mostly northern part of my country I also admire the culture of this place too. During my student life I saw various type of cultural diversity of my country. As a women I found the things which related of a women's inner and outer life such things caught my mind mostly while I do any kind of my art work. And love to express it on my artwork.
Happiness and sorrow complement each other in human life.  It is not possible to understand the feelings of one without the other. But most people are happy for a very short time. They spend their lives in distress and misery. People continue to have sorrows and misery in their mind about different things. It is in their minds most of the time. During this time people are affected both mentally and physically. For this confusion works in the humans mind, it takes time to swallow oneself alone. Misery blocks the good thoughts in our minds.
I have tried to convey that aspect of the reflection of the minds of people in distress.

Simplicity of intuition always overpowers me, that how we make simpler things too tangled and intricate. And then there is a line of radiance and we click. As an artist, every day you get an opportunity to delve into the deepest desires of your heart and formulate a way of bringing them to surface. I intend to work with the idea of exploration. Exploration of experiences. Here, by experience I don't mean my conclusion of certain events or my perceived knowledge of them. I try to speak about the distracted intangible reality which often gets slipped away from our attention. People always become my source of reading and understanding the things around me. Distinctive quality of sensing the place helps me out to figure the facets of a situation.

With the supporting stick of dark light, I play with the layers of luminosity. The shift makes it more alive by questioning the variants and analogous. I think this layered substance can get its own voice with the glowing neon because for me neon means shout-out. Its luminosity catches the viewers' attention and makes them see what is unseen and unheard.

Slingshot is the work which evolved around one object. I took freedom of research and observed that how one object and situation have multiple perspectives. It can be a war weapon, a tool for farmer, a religious symbol or a murder weapon for innocent animals. The idea of which side you are standing is important.

 " POP ART – ON THE MAP " ANDY WARHOL BY PABLO CAVIEDES

Inspired by the phenomenon of immigration and its impact on the development of the United States. I chose Andy Warhol and his powerful influence on the Pop art movement in America and the world pop culture in general as the topic of my animation. Warhol´s working class parents came from Slovakia to live in America around 1920´s and settled in a poor neighborhood in Pittsburgh, Pennsylvania. Like many other immigrants they faced challenges of adjusting to life in the foreign country. In spite of the economic and cultural hardships Warhol became an icon of American Identity.

Childhood Dream Came True in the year 2007 as Formally Grab the Photography Skill from a Reputed Institution .
After that the Journey is Still Going On , Which Must be Continue Till My Last Breath .
Exhibited Several Times in State / National / International Level .
Various Awards from State to International Level is Working Like the Fuel for this Endless Journey…

''ADORABLE''

It's the Story of a Homeless Family . the Mother is Giving Education to Her Child . Challenging Against the Time & Situation the Mother is Trying to Make her Child's Future Brighter .
(Frame was Freezed at Guwahati , Assam on 13th of February 2018)

I tried to show the vastness of nature with multiple view points like solitude, rural life and endangered settlement. Vividly, I depicted the emptiness  of nature with earthly materials like tea liquor stains, charcoal  and other modern mediums. In my domain loneliness is the significant aspect through which I used to portrays the inner likeness. The variety of texture, colour and contours have special appeal and approaches to my mind. Black is the dominant colour which used vividly through which I portray an imagery in my art works. I have got a particular inclination towards blackish colour. It has layered meanings and vast multitudes to me.
Moreover, the gloomy effect is play with the  sub-marged imagery of the artistic mind. Apart from that I have also chosen some significant colours which I find appropriate meaning to the intensity of my paintings. Basically, my paintings resolve mainly around landscapes and some fragmented contours and sub-marged civilization.

My name is Pradyut Paul.I was born on 15th Nov 1988 at falakata in Alipurduar district of West Bengal.I have completed my post graduation in Painting from Visva Bharati,Santiniketan.I have 5 years of experience doing as lecturer in Fine Arts from MNP.T.TI.I have participated exhibition,group exhibition,workshops,seminar etc.I got one award and three achievements.
          If you want to successful in this world you have to go step by step.I have tried to convey this thought through my work.Here I saw how it was slowly moving from darkness to light.

I am a painter based on Kolkata , India. I complete M.F.A. from University of Kalyani , West Bengal in 2010.
Last 10years I working on it and participate several national and international groups, solo show exhibition .
In my painting l like to describe human relation ,emotion with nature by semi abstract form. I use acrylic colour on canvas.
An artist must possess the nature and get the artist material from the beauty of nature. He must identify himself with his rhythm, by efforts that will prepare the mastery which will enable him to express human emotions to the nature and reflect the effect through his creativity. Colour plays a pivotal role to build human relation with the beauty of nature.

I am an artist residing in kolkata, I prefer experimenting with mixed media and abstract and biomorphic forms without really expecting a pre planned outcome.

 I graduated from art studies in 2020, but I continue my adventure with art with great joy. Development in this field is very important to me, which is why I am trying to start a PhD program in the field of fine arts. The uploaded graphics X-POSTER 4.0 is part of a new cycle that will start a new chapter in my work. The new graphics will border on posters and artistic graphics. I am fascinated by their mutual correlation and interaction. At what point does the functional form transform into a purely artistic form? Where is this border? How badly can we deform the poster? Could this process be the other way around? How does the recipient react to such an image? I will try to answer all these questions. The X-POSTER cycle is the beginning, the igniter, the new stage. It is very important to me, so I decided to send you some of it.

Standing at the present Socio-economic and political scenario, I have tried to uplift my works as an art-practitioner from my feelings of daily life activities and also tried to explore the condition of human beings in recent situation. Actually in this ultramodern area for the sake of colonial culture, we are living in such a world where the entire world looks like a collage to me. So, I have tried to represent my art works through collage. Through my work I have also tried to portray the mechanical area where man and the earth have been wrapped with electronics. Through our regular daily life scenario; when we open our eyes, we can observe the electronics eqipments on which we are dependent in every moment. As a consequence, distance is aroused from social side and also from emotional and love relationship. It also sets up virtual space on which education is gradually based on.
At present situation we are too much dependent on an invisible, strange media which is popularly known as NET (Internet). So in my work I generally use NET (Trap) to symbolize NET (Internet). One of the most important components of internet is BARCODE in which so much important information have been hidden which are unknown to us though we are depending on it. One more thing in my work is Frame which has no actual shape. It takes the shape of the screen when as it is viewed but we are bounded in that shape. I want to do a research work series on this kind of concept. My work may be in 2D or 3D surface.

In my selected works, process is getting the prominence rather than the conceptual part. I usually paint in flat surfaces and have the tendency to paint fragmented selective areas. As need of my execution, sometime I am covering some selected space and elements and treating rest of the surface differently and consciously allow getting layer the uncovered visual by time. After a certain period I uncover the covered area. To get the layering effect better, I use to place those surfaces over my household clay oven. Where, every day's emitted smoke of burning wood (of schedule cooking), get accumulated on the surface, and formed a layer of ash over the surface. With the time the colour of ash gradually changed and turned into black in the final stage (as I decided).
I allowed all the happening with the surface and sometime intentionally placed my work to pacific place of my home for spider weave, in sake of that temporary character of installation. After a certain period of time I decide to let over the process (as happening, some time without spider weaves).
After the process gets over, the visual execute different dialog.
Personally, I find myself in that process by different associations.
Day after day i realize that i am a confined man. And i represent my survival, my surround, my environment where i live, even nostalgic phenomenon with this process visual or materials also. And it's not only the concept or emotion. But I am trying to document rural nostalgic culture, rural cooking impression, poverty and purity through my works. Who knows how long will survive "impression of clay ovens", rural culture in the age of globalization and science or technology?
My paintings come from the place where our society is facing the current situation in the face of this epidemic.

The artwork I draw are things I see everyday in the society I grew up.
As a child I have seen machines alongside Indian mythology.
The objects I portray on my canvas are a combination of the two.
I arrange the objects in my studio and click their pictures for reference.
I find the process of disassembling gadgets very interesting, which I portray through stop motion.
My objective is to keep things simple and interesting for which I mostly use oil, acrylics and charcoal.
Realism is my favorite approach to art.

<Temple Without God> a temple for a fable. The content of the fable is a believer finding his god. He knows that he can't find the god. But since he is keeping find the god, his own temple emerges. He keeps finding his god, but he has already become the god of his temple. While the moment he stops finding the god, he would be no longer a believer, and the temple would not be a temple, the god which is himself and the one higher than him disappears. Along with this philosophical story, I created the temple. It is basically a summarize of the former artworks. I put all my imagination into this temple and wait for it to be destroyed

Samadrita Rana born 1997, Howrah, West bengal and pursuing master degree from Govt. College of Art and Craft, Calcutta. This work is interdisciplinary and thoughtfully used the medium itself as a message. Farmlands are being forced  to produce a large number of crops due to excessive necessity and gradually becomes afflicted and melancholic.
"Art teaches you the philosophy of life, And if you can't learn it from Art, you can't
learn it at all. It shows you that there is no perfection. There is light, and there is
shadow. Everything is in half tint. "
                                                                   – William Morris Hunt

The introspection of life and philosophy intertwines together creating a language
of unpredictability. Every moment and experience that comes around in life, the
plans that we make for today or tomorrow may not always come according to our
prediction. It is always unpredictable. I try to incorporate these elements as a visual language or as my creative process through various shapes, designs, and colors taken from nature. When these elements are drawn according to plan many other elements come within unconsciously thus creating a connecting thread between the conscious and unconscious. The work reaches its perfection when the  audience can experience a sense of connection and have a visual feast"

myself Sapna Sharma,  New Delhi based visual Artist,  master's in fine art painting from college of art, university of Delhi in 2012.
My works are experiment based done in mix media , result of my experiences and daily thoughts, it's a true expression of myself with the combination of social thought behind that ,
Present upload work called Festivity is about celebration of positiveness in society.  After lockdown period in last year I felt like free , wants to celebrate, so the society as well felt  same when life starts flowing back ,so I just pick my old clothes,  eco dye my cotton fabric and compose this work.
My style reflects a vision of freedom
as well as  experimentation and I like the whole process where i combine things together, it's like a beautiful episode of my routine to combine different pieces of clothes,  cutting , pasting , painting, eco dying on one surface .

 My works mostly depict food as a simple meal and a socialized element in every one's day to day life. Food is essential to our survival. It is also one of the great pleasures in life. Food also preserves traditions and cultural identity.
For me food has many forms like hunger with hope to struggle for life is a dominant factor in my work. In my work I try to create food in many imagery recreations, over and over again in countless compositional interpretations mostly through a large scale colour woodcuts to a small scale etchings.

Sebastian Laszczyk was born in 1994 in Rzeszów. He graduated from the Institute of Fine Arts in the rotogravure and multimedia studio in 2020 and painting and painting technology in 2019. In his art, he uses contrasts between precisely calculated elements of geometric figures and random abstract forms. He took part in many artistic projects: Marina Abramović absolute freedom, Art and Science 2,3, Self-portrait Intymny. In many international exhibitions Serbia, Slovakia, Belgium, Japan, Ukraine, Romania, Lithuania, and the country.

Basically, I try to choose narration from spontaneous happenings of our surrounding and try to connect the physical body of nature with a philosophical corner. My individual works are most of the time different in subjects. I felt my outer resources are much influential for my reaction, to approach the work; where the identity, condition of an image takes an important role.
In this book project, I did not set the subject first. But as I started with the format, I noticed that by flipping the page in different direction it is getting pared with a new one; as like various chances and possibilities of nature. In a particular moment, certain possibility becoming as reality, where, every diversion of choosing deciding the new destiny.
Most of the time the composition of two pages were unpredictable, but I was aware about this possibility of chance juxtaposition. My control was just limited into the selection of form and for a individual piece of composition.
It was interesting to see the un-predictable results

I feel the existence of life itself in the objects those are not living, rather dead, neglected or broken. Rural life and atmosphere is the centre theme of all the works. I mainly find the meaning of life as well as art through the objects that are neglected, broken or not in use. On the other hand the infiltration of 'modernity' in the rural life is the another part of my observation that makes the life of art as well as art of life rather complicated. These broken neglected rural objects play the important character to portray the idea of art acquired by me throughout my life.

My work is based on Memories which is identity of each person is generated from their experiences: These are transformed into memories, and in a way they end up shaping out, way of interpreting reality. Memory is a collective result of past experiences which we see or hear in our day to day life, and those become our memories and always remain in our sub-conscious mind. I have used many elements which I have used in my previous work which came naturally while working on my sketches and drawings. For example, I did work on honey bees in past works and now this work is somewhat reflected in my present work. The past work has always been an inspirational in creating new art work. In my work I have shown bee hives that symbolizes carrying or storing honey and this has left some impact on my mind so I have used beehives as my own memory hives– storage place to collect all my memories storage place to collect all my memories. I have also used the pigeons and sunbird in my work. These birds become part of my memories because of their visit in my house garden every day. These birds visit place to place around us. Sunbird collects nectar from the flowers like the way I collect my memories and preserve in my works. In reminiscent of the absent, we can see the combination of the search for meaning linked to an administration for natural elements such as flowers, birds create a base, a connection for everything we explore within deepest places of the heart.

I am Surajit Roy, I am a sculptor. Pass Out from Santiniketan Kala Bhavan I am currently working on different mediums of my sculpture. The main feature of my sculpture is the simplified structure of the inner and outer expression. I have mainly portrayed nature through my sculptures and I have tried to highlight the underlying meanings and external meanings and expressions in nature through my sculptures.

Thu specializes in acrylic painting, silk painting, oil painting and  monoprints. Now, living in Switzerland as a foreign artist  and still embracing her Vietnamese cultural inheritance,  Thu's paintings carry exotic moods , lively colors, unique creations of  her own techiques and emotions, reflect the harmony of East and West. Her artworks greet viewers with the variety of  emotions and curiosity.
"Night's symphony" (Acrylic on canvas, 2021, 60x60cm)  is a creation of artist Thu Anh Nguyen in harmony of nature. Night life is beautiful, nightime is when we return to our true selves. It can be peaceful or bustling, dark but colorful, quiet but lively, everything in nature or inside our thoughts create a beautiful symphony

I work in the digital field, I use artificial intelligence, virtual reality or augmented reality to create my works.

During this pandemic , I was introduced to various new mediums of printmaking and the monotype was one of them. Here I used charcoal , linseed oil and the base was a glass.
                Though at this present era , boy and girl gets equal preference. But the stereotypical mentality is still there in some places. The parents provide the essential needs to their children. But their allowances vary accordingly. If they gave two threads to their boy child and girl child , they will allow them to use it differently. The boy can fly kite in the sky but the girl is not allowed to do so. she can use it to make some woolen clothes or embroidery but not the one the boy is allowed to. The girl is always expected to be patient and stable and if the prescribed or the already established stereotypical ideas are not followed then it actually provokes the society. So my question is  'Can we really treat them equally ?'

I have been really blessed to be born 1991 in Pondicherry, and that, too, in a family ever cherishing the Arts and Crafts in Wood-Carving. My Paternal Grandfather, R. Ranganathan Achari, and his younger brother R.  Rama Achari, National Awarded India had been well-known for the works of Artifacts and artistic Wood-Carving products in those days of the French Regime. Following the footprints Father, Mr. Virappan Achari, a well-renowned personage in Wood Carving, Statues Crafting, especially, Temple or Shine Icons of Gods & Goddesses, the very milieu itself has given me a hunger for learning Art of drawing and painting since I have observed my father doing the same before commencing Wood Carving Works. By this type of keen observation, I have got my mindset fully groomed for the field of Art, specifically, for the field of Line-Drawing and Painting. His spiritual interest made him work based on (Yoga, Meditation, Chakra, Panchabootham & Spiritual – Research) specific series of Pen & Ink – Drawing Composition.
Thank you for visiting our exhibition.
Please leave your valuable comments below.
Curated by Chayan Das Thakur and Debajit Rudra Paul