CALL ONLINE EXHIBTION

TERRACOTTA POSTER (2)

Join with us 7278336911 7908469250

Join with us 7278336911 7908469250 (1)

Slide

long poster

banner

Full 3
Works of Eminent Artist Chandan Das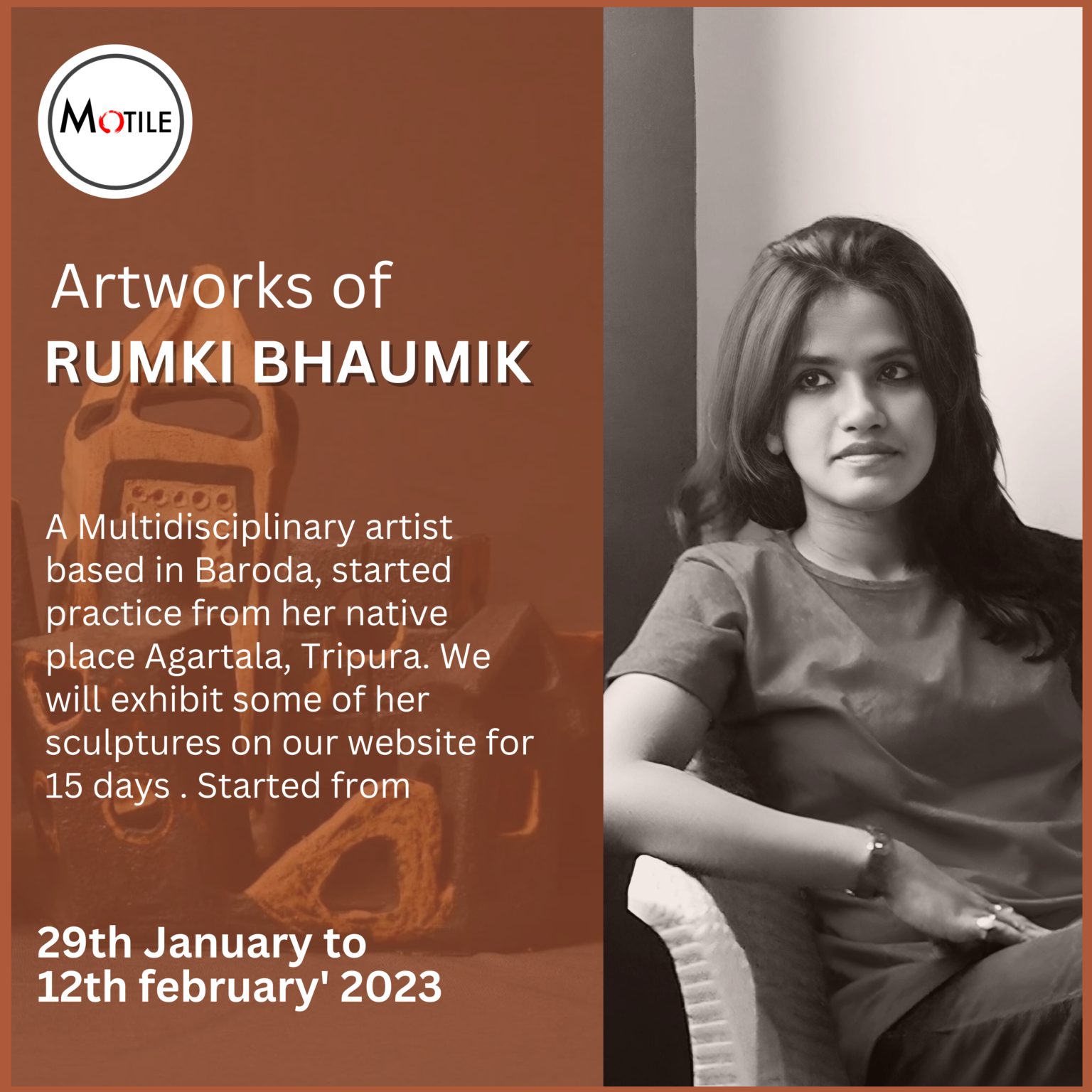 "The artist, a person with the capacity to transform their instincts into reality through their artwork, as well as that, to turn those impulses into something aesthetic, they are like neurotics, flee a reality that is hardly satisfactory to them and take refuge in a fantasy world, and are able to find their way back." As mentioned by Sigmund Freud, explaining art has its own psychological baggage and makes one truly genius through their work of art. In essence, art is the way of expressing emotions in a non-generic way. However, a technique is no good until admirers can actually see and understand it. An art exhibition helps bring that hidden essence and emotion before the people that admire and understand it. Arts have the uncanny ability to overcome cultural and ethnic differences, art is that universal language that brings people together. With the aim of affirming the resilience of art during the difficult period and in preparing for the future, we launched this online platform, which, among other things, consisted a series of global virtual support for the cultural world throughout the crisis. It's our 2nd international online exhibition with ample of success. We gladly featured all the participants, who joined us this time, and also paying tribute to the solidarity shown by artists and institutions at time across the globe. We would like to bring it to your notice that other than this exhibition we organised art camps, residencies and workshops. And hope, will continue to shake new hands for future period of time too. Most importantly, we would like to thank our jury, Artist Dr. Bibekananda Mukharjee
,

Eminent

Artist

Sri Sourav Jana

and

Eminent Artist Haren Thakur

for helping us to sort and come with the best to showcase in our shows.


Please do support us and join us on our Instagram and Facebook pages to be aware for our upcoming initiatives. We heartily Congratulate all artists for being part of this exhibition. For the artists who were not able to be part of our family for this time, we assure, we will be in touch with them for future initiatives. Moreover, hoping from all to enrich us with your valuable Compliments, comment and suggestions, with your thoughts at comments box. ---Motile Art
Modernist art objects were transportable, nomadic, could only exist in the museum space, and were the objects of the market and commodification. Since 1960 the artists were trying to find a way out of this situation and thus drew attention to the site and the context around this site. The work of art was created on the site and could only exist and in such circumstances, it can not be moved or changed. The site is a current location, which comprises a unique combination of physical elements: depth, length, weight, height, shape, walls, and temperature. With this thought, Motile has gathered with some aspiring artists in Rangamati, West Bengal. The people here are involved in various agricultural activities as their foremost occupation. In this residency, we invite artists from different parts of India to explore, experience, and get connected with nature. This initiative primarily celebrates an artist's connection with nature using materials found on the site. The concept is best understood in relation to historic earth or Land art and the evolving field of ecological art. The field is interdisciplinary in the fact that environmental artists embrace ideas from science and philosophy. The practice encompasses traditional media, new media, and critical social forms of production. Participants has interact and interchanged their thoughts with each other to get a better understanding of that period.
CURRENT INITIATIVES OF MOTILE
"The artist, a person with the capacity to transform their instincts into reality through their artwork, as well as that, to turn those impulses into something aesthetic, they are like neurotics, flee a reality that is hardly satisfactory to them and take refuge in a fantasy world, and are able to find their way back." As mentioned by Sigmund Freud, explaining art has its own psychological baggage and makes one truly genius through their work of art. In essence, art is the way of expressing emotions in a non-generic way. However, a technique is no good until admirers can actually see and understand it. An art exhibition helps bring that hidden essence and emotion before the people that admire and understand it. Arts have the uncanny ability to overcome cultural and ethnic differences, art is that universal language that brings people together. With the aim of affirming the resilience of art during the difficult period and in preparing for the future, we launched this online platform, which, among other things, consisted a series of global virtual support for the cultural world throughout the crisis. It's our 2nd international online exhibition with ample of success. We gladly featured all the participants, who joined us this time, and also paying tribute to the solidarity shown by artists and institutions at time across the globe. We would like to bring it to your notice that other than this exhibition we organised art camps, residencies and workshops. And hope, will continue to shake new hands for future period of time too. Most importantly, we would like to thank our jury, Dr. Bibekananda Mukharjee, Sourav Jana and Haren Thakur for helping us to sort and come with the best to showcase in our shows. Please do support us and join us on our Instagram and Facebook pages to be aware for our upcoming initiatives. We heartily Congratulate all artists for being part of this exhibition. For the artists who were not able to be part of our family for this time, we assure, we will be in touch with them for future initiatives. Moreover, hoping from all to enrich us with your valuable Compliments, comment and suggestions, with your thoughts at comments box. ---Motile Art
PREVIOUS INITIATIVES OF MOTILE
Pablo Picasso said, "Every child is an artist. The problem is how to remain an artist once we grow up". To record some moments of growing up, an well-known organization of Kolkata called Ramdhanu initiate an workshop with some newbie artists which was held between 2nd june and 4th june, 2022. Some enthusiastic artists named Prasanta Kumar Roy, Pijush Sinha, Bapan Sing and Anupam Halder has conducted that workshop with their hard work and polite voulenteer. Thirty (30) young participants were there who later divided into two different groups (A and B) . Our organization Motile art has decide to be on their side and help them to show their works on our official website . Our organizers Mr. Chayan Das Thakur and Mr. Sushanta Mistri has spread their helping hands to moderate the workshop, also this online exhibition. We hope that you will enjoy these creations of some imaginative and creative minds .
As said by the great Pablo Picasso " Painting is just another way of keeping a diary", we, a troupe of some known and unknown faces with a willing of knowing gathered together to venture into the beauty of Purulia and take home with us some magnificent views in the form of 'Art Camp'. This family of us was represented by Adwitiya Sarkar, Rishina Bhakta, Suchandra Kundu, Yendrila Majumder, Anushree Kayal, Arup Naskar, Suresh Kr. Singha, Anup Pradhan, Nilutpal Chakraborty, Tanay Saha, Arpan Sadhukhan, Swapna Halder, Shayani Das, Tithi gain, Soumen Roy, Chayan Das Thakur, Susanta Mistry and Sourav Nandi. Our Mask making workshop and journey of visual treat were for 3 days, during this period we not only tried our brushes but also gathered knowledge. The first few days went reminiscing the beauty of Purulia, and the surrounding exceptional visuals of nature and it's doing. Then on the next days, we visited a small village named Charida, known for its "Mask Village" made in some of its households. There we gathered the knowledge of the process of creating Chhau Mask masterpieces from the artisans. This whole time we bewildered our brushes, splashed colour palettes and created different views on our papers and made this workshop a memory always to be cherished. We, with the idea of spreading happiness and also the visual retreats are coming up with this Online Art Exhibition "CHHAU, Virtual Exhibit". This exhibition will represent works from all the members of this Art Camp. Thank you.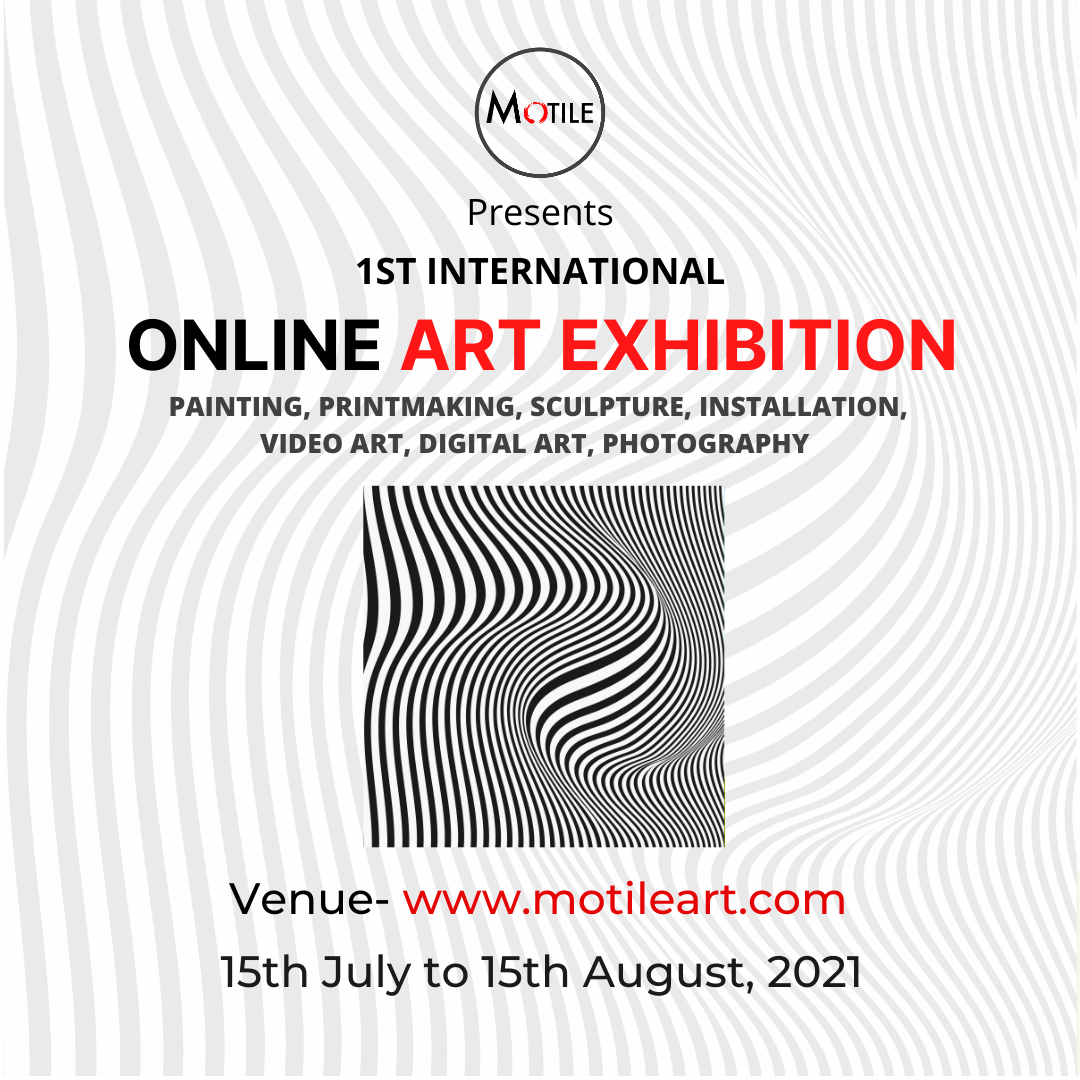 welcome you to our very first 'International Online Exhibition'. Artists from around the World, as well as different parts of India, have participated in this exhibition. You can relish the versatility of tradition and thought through the diverse works of our seventy (70) emerging artists. Starting, from July 2020, we always made efforts to encourage emerging artists in every situation. Within a year we have organised five(5) exhibitions(online), one(1) collaborative art project (offline), one(1) watercolor workshop(offline) and conversations with many artists (ongoing). This 'International Online Exhibition' aims to reach out to many more talented and insightful artists throughout the world and hence, to connect with each other. We hope, you'll encourage the participants by sharing your thoughts, suggestions, and observations by putting forward your valuable comments. We will be delighted by your presence, response, and constant support.
As said by the great Pablo Picasso " painting is just another way of keeping a diary", we, a troupe of some know and unknown faces with a willing of knowing gathered together to venture the beauty of Massanjore and take home with us some magnificent views in the form of 'outdoor watercolor'. This family of us was represented by Ayan Das, Anupam Halder, Priya Majumder, Siddartha Shil, Chandra Banik, Adwitiya Sarkar, Rishina Bhakta, Susmita Maity, Bapan Sing, Pijush Sinha, Surajit Dey, Suranjan Roy, Raju Rabidas, Arup Naskar, Monika Mondal, Anup Pradhan, Debajit Rudra Paul, Chayan Das Thakur, Susanta Mistry and Sourav Nandi. Our workshop and journey of visual treat were for 3 days, during this period we not only tried our brushes but also gathered knowledge. The first few days went reminiscing the beauty of Massanjore Dam, It's trail Moyurakkhi Nadi and the surrounding exceptional visuals of nature and it's doing. Then on the next days we visited a small village named Sikaripara, known for its "Dokra Art" made in some of it's households. There we gathered the knowledge of the process of creating Dokra masterpieces from the artisans. This whole time we bewildered our brushes, splashed colour palettes and created different views on our papers and made this workshop a memory always to be cherished. We, with the idea of spreading happiness and also the visual retreats are coming up with this Online Art Exhibition "MAYURAKSHI, Virtual Exhibit". This exhibition will represent works from all the members of this workshop. Thank you. - RISHINA BHAKTA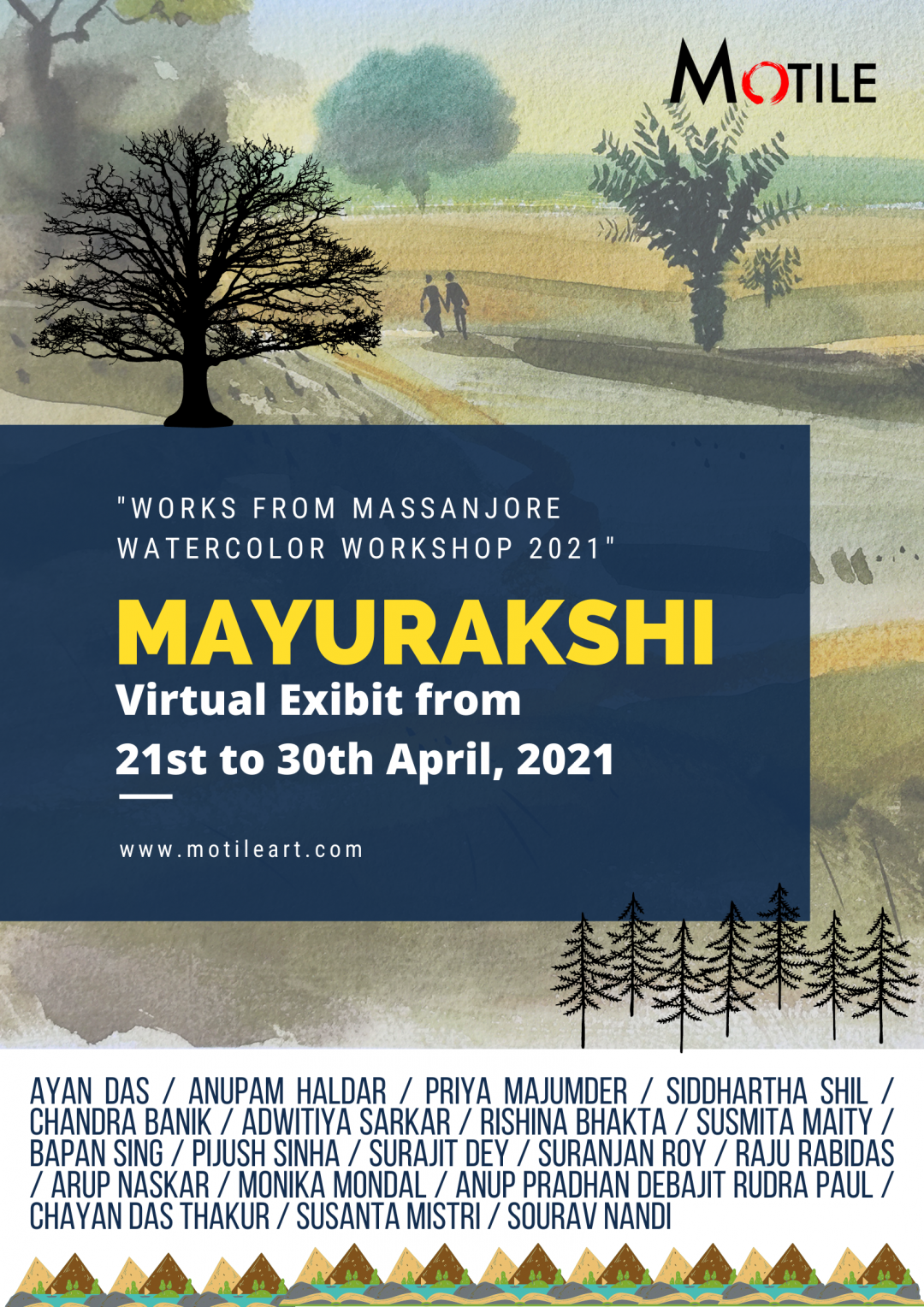 Copyright © 2020 Motile art. All rights reserved, Powered by Motile