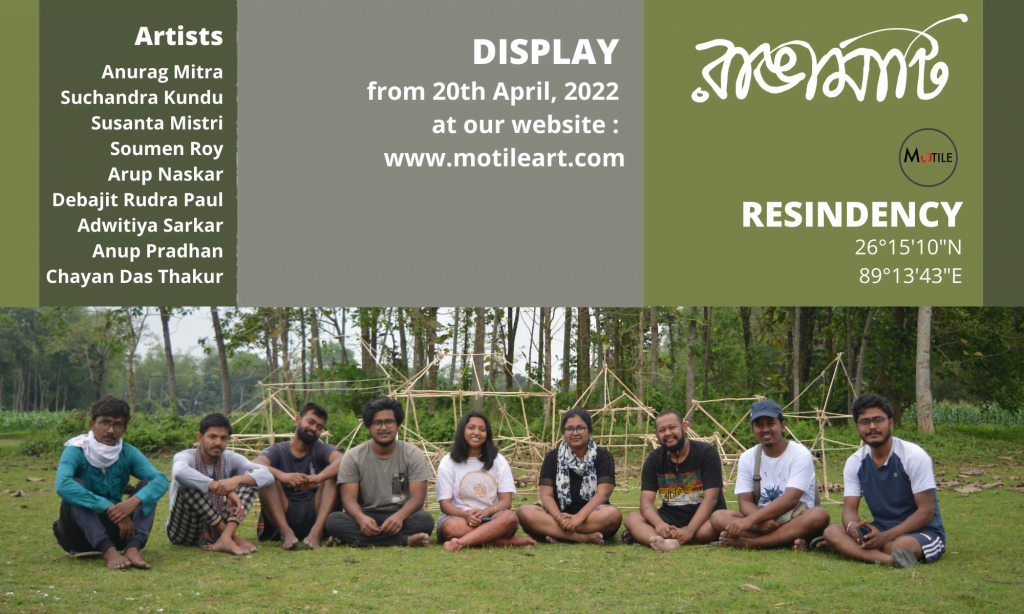 Residency Program 2022 RANGAMATI
Modernist art objects were transportable, nomadic, could only exist in the museum space, and were the objects of the market and commodification. Since 1960 the artists were trying to find a way out of this situation and thus drew attention to the site and the context around this site. The work of art was created on the site and could only exist and in such circumstances, it can not be moved or changed. The site is a current location, which comprises a unique combination of physical elements: depth, length, weight, height, shape, walls, and temperature. With this thought, Motile has gathered with some aspiring artists in Rangamati, West Bengal. The people here are involved in various agricultural activities as their foremost occupation. In this residency, we invite artists from different parts of India to explore, experience, and get connected with nature. This initiative primarily celebrates an artist's connection with nature using materials found on the site. The concept is best understood in relation to historic earth or Land art and the evolving field of ecological art. The field is interdisciplinary in the fact that environmental artists embrace ideas from science and philosophy. The practice encompasses traditional media, new media, and critical social forms of production. Participants has interact and interchanged their thoughts with each other to get a better understanding of that period.
Kolkata, West Bengal
Suchandra Kundu is a multi-disciplinary artist based in Kolkata. During residency, she was involved in her performance which is titled "I am part 2". Throughout this activity, she was connecting her body with her surroundings. In her words "With my fragile body which bleeds in every second full moon I dream of making an individual identity and I concur it. I dream of crossing the boundaries stretching them, breaking them, and creating new ones without thinking of ruining my delicate beauty. My honor takes a new shape with every step I take and turns out it is not fragile at all.
Who am I? I am all those women who are ahead of me, beside me and behind me."
Kolkata, West Bengal
Anup Pradhan is an artist based in Kolkata, West Bengal. He says that "We have been deeply involved in the world civilization for centuries. Many changes have taken place and will continue to take place in order to make human beings habitable in the world. As people in different places change their nature, behavior, culture, livelihood, and habitat, these differences lead to different perceptions of people in different places and their habitat, culture, and surroundings." During that residency, he built simple house structures using some jute sticks and bamboo sticks on vacant farmland. These structures or armatures are arranged one after the other on the vacant farmland, creating a dimension from which the expression of the civilization of that place can be inferred. The houses that have been built in this work are according to the style of houses in the local area. Some small school children of Rangamati village have helped to make these houses. They have been assisted in this task because they have been becoming nature. The soil, the land, the plants, the houses, and nature are closely intertwined with them. Houses that have very weak walls and knots are also very weak, yet their houses have the strength of standing without seeking help from each other.
Agartala, Tripura
Anurag Mitra is a multidisciplinary artist based in Baroda. Through his creation at the residency, he has been dwelling on the situation and incidents from his immediate surroundings. To explain his idea he says " description is not required, we know everything". He prefers to use some words with # (hashtags) to convey his experience in this residency program.
#rangamati #motileart #farmingzone #figure #outline #burnig #war #coal #russia #ukraine #art #fire #nature
#clayfloor #group #residency #weed #banglamod #pishi #menakadi #nibaranda #ghost #food #chula #chickenpox
Birbhum, West Bengal
Chayan Das Thakur is an artist based in Suri, West Bengal. During the residency, he created a landscape of this village Rangamati by using some collected materials like waste asbestos from different people's houses. Some are rusty some are not, he has assembled all asbestos as an emotion of the farmers. By attaching asbestos with each other it become a massive landscape which was reflecting my experience. He realized that landscape is divided into many small properties some properties are prepared for cultivation, some are already cultivated, and the soil has various colors like brown, black ochre yellow, and grey like asbestos has many colors. Later he has attached his presence by drawing with black color on it as an amalgamation of thought, self, land, and asbestos. That image has the potency to lead someone towards dimensions of thoughts that artist like to address as "Temporary Emotions".
Agartala, Tripura
Debajit Rudra Paul is a multi-disciplinary artist based in Baroda. His artworks offer a platform to get curious and create an urge of interaction. During residency, he exchanges dialogues with landscapes of Rangamati, in different areas of the village he has been standing while wrapped and covered with bandages. According to him, this gesture can make him realize the situation of the people who have been affected by war or mob lynchings, or any kind of religious violence. Innocent people have to suffer the most but they have never been listened to by authorities, which leads them towards migration, starvation, and death. This village in Coochbihar is being nurtured by those migrants who have fled from Bangladesh during the war with Pakistan. Till now, they have fear of getting connected with the Muslim community, which he has found a fresh deep wound that is hard to cure.
Kolkata, West Bengal
Susanta Mistri is a painter born and based in Kolkata. He likes to express his emotions and visuals through this paintings using lines, dot, color,s and brush strokes. Work at residency revolves around the abandoned wall of a house in Rangamati. The house that once had a beautifully decorated, where people used to be lively in ceremonies, now only has a broken wall and a verandah in front of it. With his activities, he tried to revive that house using cow dung for coating the verandah, and then traditional Alpana was given by the villagers. It is very common to see it in the village on any auspicious occasion. He wants to call this whole process "An eye-full of Hope."
Kolkata, West Bengal
Arup Naskar is an artist based in Kolkata, Out of his own boundary when he entered another boundary, found some elements from the environment there, and wrapped them with his feelings. He likes to point out his activities in three different aspects, • An earthen walls with jute sticks, which is in his own range, which has been crossed, blend in with the environment there. • To collect the impression of his position by returning the last tree trunk to his family for the last time. •Gathering the ingredients he sees in the environment, constantly roaming, serving everyone in a new way. With the material from the environment, his work, which, again will dissolve in with the environment he has blended activities with the environment, also feelings. He calls it "A path above life."
Siliguri, West Bengal
Adwitiya sarkar is a painter based in Siliguri, West Bengal. Activities in that residency depict her sensitive nature and curiousness about small things happening around her. She likes to divide her activity into two different parts. First one she called "The Destruction", When she went to this place saw a lot of trees had been cut down there because it is infested with insects. This somehow knock her inner self and encouraged her to spend some time with trees. Another part of her activity is called "Drying Clothes" where she procured some materials from nature to create some shapes to represent regularly used dresses and hung those to abandoned hangers as if they were to be dried in that place. With his piece of work, one can imagine the existence of human being there.
Kolkata, West Bengal
Soumen Ray is a young emerging artist based in Kolkata, his works are mainly drawing based which he later converts into stop motion animation. At this residency, he has been playing with reality and illusion by drawing some shoes with charcoal to represent a gathering of humans in a specific space. By drawing different kinds of shoes he was capturing the class, culture, and economic status of people who have been gathered in one specific place.